If there's one place where you're going to invest in comfort and relaxation it's going to be your home. Choosing furniture to maximize comfort, while not sacrificing aesthetics, should be the top priority of any homeowner. Any room that plays host to family gatherings should reflect that philosophy completely, so that your family members and everyone that visits all feel embraced by the home's atmosphere.
But choosing the right furniture isn't as easy as going down to one of those big box stores and picking out a nice-looking piece; if you want furniture that will last, furniture that classes up a room, you need to go with handcrafted, solid wood furniture. Here are four ideas for interior design featuring wood furniture – each corresponding to a different room.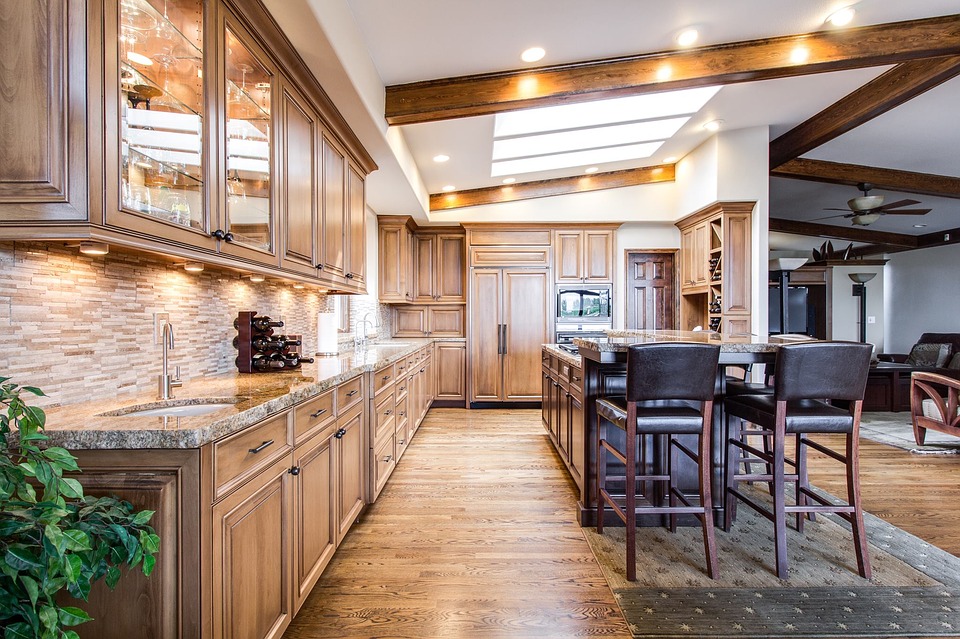 #1 Starting with your living room, often the first room a visitor sees: Great signature solid wood pieces for the living room are a great coffee table, a console, a bar and an entertainment center. All of these pieces can age beautifully over time and only increase their usefulness as the family grows accustomed to their presence. Coffee Tables can be made of solid wood and crafted to be quite useful with shelving and even house extra seating. A console can display vases filled with fresh flowers, valuable collectibles and even first editions. All these things can draw the gaze of the visitor or simply remind family, via photos and art, that this home is filled with memories. Your entertainment center can be the focal point of the room and be as extravagant as needed to house your television, workspace, stereo and speakers.
#2 You can incorporate solid wood into your family room by any number of means. By introducing superior quality handcrafted wood furniture in a room, you give it a touch of class. You can reproduce a similar look in your family room as you have in your living room – coffee tables, consoles and an entertainment center can either be placed in the living room or in the family room. The family room is where people gather, so comfortably-sized furnishings that encourage groups of people to use them are ideal.
#3 Dining room ideas include the obvious: a beautiful dining table to seat your small or large family, as well as any guests that might come over. This allows for circular solid wood tables, oblong or rectangular solid wood tables designed to be enjoyed and long lasting. The dining room is also a location where you can store your family's precious heirlooms, like old china or silverware. Solid wood dining room storage can also include a buffet, an entertainment center or a bookcase.
#4 The bedroom suite is the place where the homeowner can explore new horizons. Not only can they have a solid wood bed of any size, they can add a dresser, chest of drawers, bedside tables, an armoire, entertainment center, etc. There are many options for furnishing a well-appointed bedroom suite, and your new pieces that should always have the appearance of having been finished by master craftsmen.
Designing a house around solid wood furniture is easy, intuitive and leaves you with a stylish, sophisticated looking home full of pieces you can pass down for generations.