Smart home technologies controlled by smartphones are more common in homes than ever – Digital Information World reports that 32 percent of Americans own a smart speaker. It's becoming essential that the rest of our appliances and devices need to keep pace with changing times.
When it comes to home security systems, you'll want to find one that is compatible with your smart home devices and has its own mobile app. Most of today's systems are sleek in design, much "smarter" than traditional security systems, and can be controlled through a mobile app, in addition to your security alert system's main hub or panel.
Read on to discover why having a mobile app for your smart security system is not only more convenient but safer when it comes to protecting your home and family.
1. Security made easier
When it comes to your day-to-day routine and activities, you have more important things to be doing than worrying about than your home security system. Having a mobile app for your security alert system gives you the peace of mind to spend time on more important matters.
Most smart security systems' mobile apps include remote arm and disarm services that allow you to conveniently arm and disarm your system when entering or exiting your home straight from your app. Unlike traditional alarm systems, smart alert systems no longer require one four-digit passcode with a roundabout process to get it updated. Monitoring companies allow you to create personalized codes for trusted ones (family members, babysitters, and older kids) so they can access your home even when you're not there. You can even update your alarm code from your mobile app.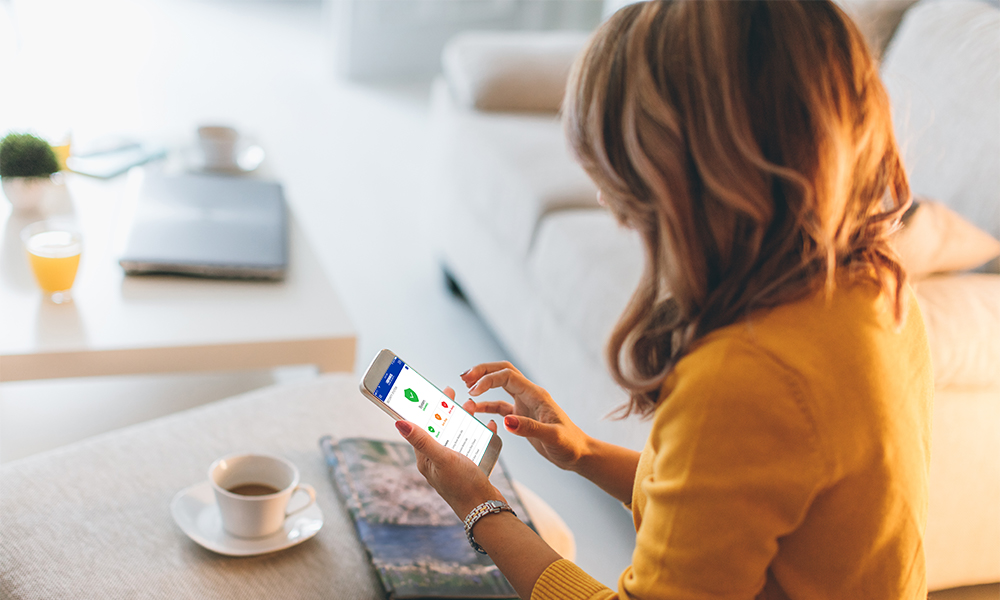 Forgot to arm your system, but you already left home? Geo-fencing capabilities will notify you with a reminder that you forgot to arm your home security system. Alternatively, you can set your system to disarm when you get within a certain distance of your home or set an arm/disarm schedule. You can also simply use your voice code to disarm your system when your hands are full or you forgot your smartphone.
2. 24/7 Remote home monitoring
When you choose a system with video monitoring, you can check in on your home anytime from your mobile app. You can also request data snapshots from any of your sensors or motion detectors with the touch of a button. Remote home monitoring is made easy by setting specific notification settings in your mobile app for your video-monitored system.
Video doorbells can provide an additional layer of protection for your home. Set up custom notifications and get notified whenever someone is at your door and be aware of who or what is on your property at all times. Whether a package is being delivered or the sprinklers turn on, the motion-activated camera is always ready to record.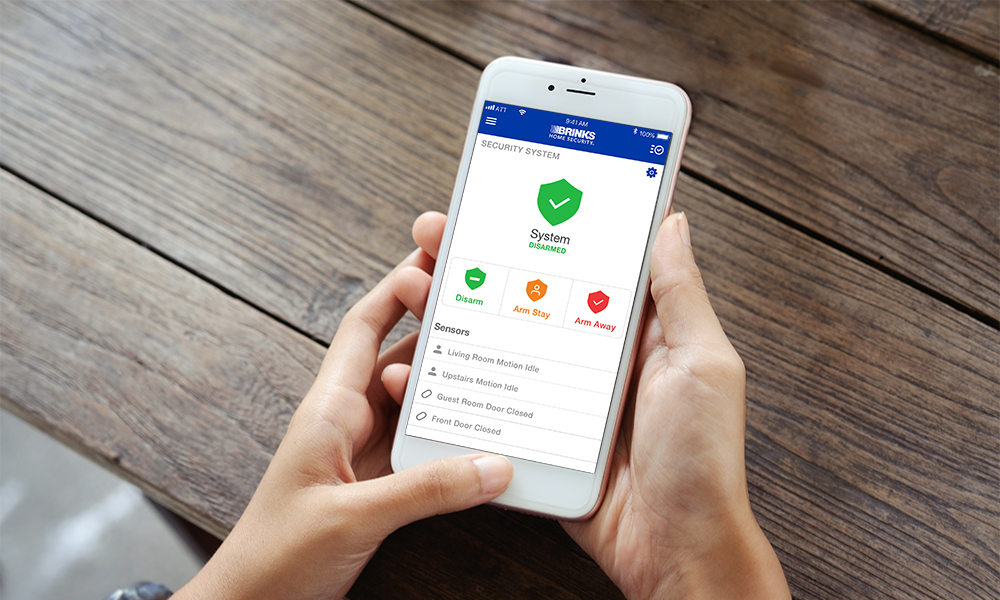 3. Stay connected
Smart home security systems make it even easier to control your smart home devices, such as the smart home hubs or smart lightbulbs, via your mobile app.
You can rely on a smart home automation and security system to make your life a little easier by being able to remotely control your security alert system, create an automated lighting schedule, schedule thermostat changes throughout the day, or use geo-fencing to cool down the house when you're approaching home.
Your home security system can even assist when it comes time to power down for bedtime … literally. Some monitoring companies offer special features via their app like Brinks Home Security's "Scene" setting that automatically turns lights down or off, sets your thermostat and locks all the doors. You can even create a custom Siri voice command to trigger a Brinks Home Scene via your Google Home product or Amazon Echo. Apple Watch users can adjust locks, lights, garage door, security system all from their watch. Your Apple Watch can even act as a live feed for all system activity!
4. Faster alarm response
Depending on your home security provider, your home security mobile app can allow for faster alarm response, especially when you're not home. During the event of an alarm, you'll be immediately notified on your smartphone via your system's mobile app. With a video-monitored system, you're able to check in on the interior or exterior of your home and request emergency services if needed.
Professional monitoring companies have different protocols for alarm response. Brinks Home Security, for example, has its patented ASAPer technology that allows a customer and all of their loved ones to be linked together in a group chat via text message during the event of an alarm. When an alarm goes off, the panel immediately sends out a text or email alert to all parties on the emergency contact list including their monitoring stations. Anyone in the group chat can respond or request emergency service and the monitoring station will dispatch the necessary respondents. Group chat members can also hit a button for false alarms or non-emergencies within the chat. ASAPer links everyone together so that there is plenty of communication during an alarm.
5. "Stranger Danger" no more
Your video-monitored security system allows kids to see any visitors directly on your home security panel, smartphone, tablet, or computer. Rather than dropping what you're doing, or interrupting meals or morning routines, conveniently check to see who's at your door or pulling into your driveway right on your phone! And why not let kids take a look so the excitement of quickly cranking open the front door for a potential stranger is shortly forgotten?
6. Save money and energy
Not only does your smartphone-integrated home security system save you time, but it also saves you money and energy.
Most security monitoring companies offer system add-ons and upgrades. Certain types of environmental sensors can detect freezing pipes, smoke and fire, carbon monoxide, basement flooding, and much more. Imagine being notified of a leak as soon as it starts? Or saving a few bucks on your heating bill in the winter?
And when it comes to home fires, you can never have too much protection. In 2016, U.S. fire departments responded to 1,342,000 fires; 371,500 or 78 percent of those were house fires.
7. Parents' best friend
If you already use your smart home security system's mobile app, then you're aware of the peace of mind that it gives you when it comes to the whereabouts of your children.
Remote home monitoring with a video-monitored system is made easy with a 24/7 view into your home via your mobile app. Most indoor security cameras have a speaker so that you can speak to whoever is in your home from your phone. And when you're home, you can keep an eye on other rooms and the exterior of your home without having to go check your panel.
Mobile apps allow one person to be the sole controller of a system or multiple people can control a security alert system via the mobile app. Just like app users have the ability to create personalized access codes for specific people, app users may also change the passcodes just as easily.
Parents can also create notifications to get notified when someone has arrived at home and disarmed the system, alternatively, "no-show" alerts let app users know when someone didn't show up at a scheduled time; be aware of who is and isn't in your home at all times.
Savannah Christie has over three years of experience in Marketing and Public Relations. She is currently pursuing an interest in smart home technology and security as a Marketing Communications Specialist for Brinks Home Security. She not only enjoys following and educating herself on smart-home trends in technology and design, but educating others on the benefits of having home security and professional monitoring. Connect with her on LinkedIn: https://www.linkedin.com/in/savannah-christie-36a90a113/.