One of these She Shed structures is not like the others:
A shady covered patio without walls or a door to lock.
A pergola covered with vines that don't protect you from rain, snow, or sun.
A sturdy, weatherproof structure built to last through every season.
A creepy, dusty woodshed crammed with whatnot and crawling with spiders.
A She Shed is only perfect if it meets basic structural guidelines and will adapt to fit your needs as they change over time. The first step is to decide on its functions and long-term plans. As architects love to say, form follows function.
Defining Your She Shed's Purpose, Now & In The Future
Before making any purchases or visualizing the appearance of your shed, it's important to define its main purpose. Will you use it as an arts and crafts studio, a business office, an entertainment center, a gardening workshop, a guest house, or a room for reading and writing alone?
In all cases, consider the following amenities for multi-season, comfortable use:
Multiple windows and doors for sufficient ventilation and natural light
Insulation for temperature control
Wallboard or particle board for finished walls
Electricity for lighting, heating and air conditioning and, perhaps, a kitchenette
Space for gatherings or meetings
Protection from the elements when it rains or snows
A cozy entry area for flower boxes, patio chairs, or a custom welcome area
If you're starting a new hobby and it takes off as a business, will you have room to grow? Will your inventory have protection from the elements?
If you're hosting a group of other hobby enthusiasts, will they be comfortable in your space? It's easy to get distracted by all of the decor options, but when you're just starting your She Shed, focus on purpose and ensure your vision matches your purpose, now and in the future.
Selecting Materials for Your She Shed
The next step in planning your She Shed shed is to consider construction materials that affect look and function. Glass, metal, and wood are the most common dominant shed materials.
Glass
One popular she shed design is the vintage potting shed with lots of windows. If you have lots of land and plan to expand, you can purchase a glass greenhouse kit online or look at expansion options for your existing home. Check out this Greenhouse Surround in Sweden: Greenhouse Home.
Metal
Metal kits are gaining in popularity for She Sheds with business plans. Customizing them to fit into a garden space is easy, leading to a trend called "shomes" by Country Living. Custom metal buildings and structures — in which small storage units are attached to an open-air carport or metal garage — are ideal as where plentiful workspace and sun protection is necessary.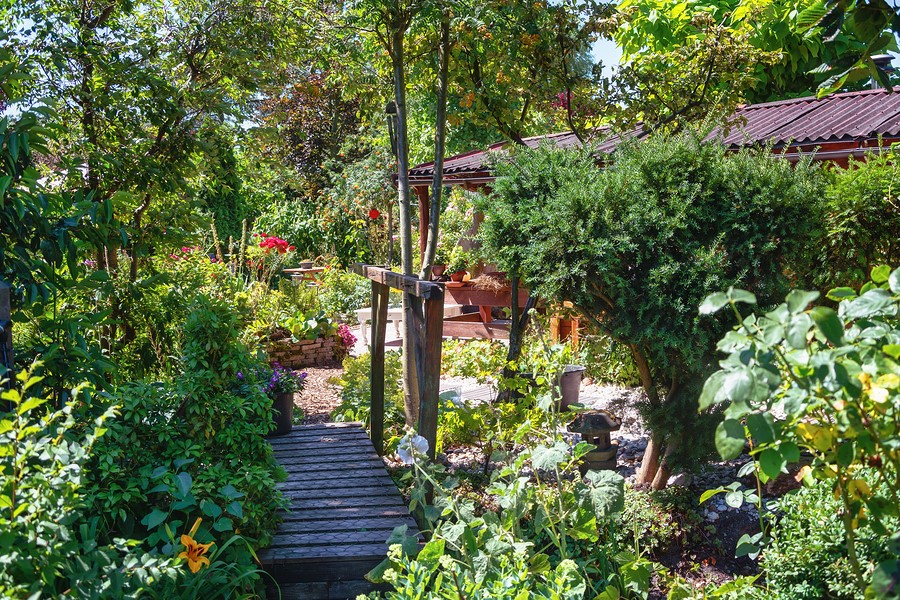 Even humble, old-fashioned metal sheds are receiving she-shed makeovers. The blog Little Things demonstrates how to glam up an old utility or storage shed with the application of a faux window, trim, and a colorful, feminine paint scheme.
Wood
The most common material that comes to mind for She Sheds is wood. While it easily lends itself to the cottage- and Victorian-style designs that are so popular, it doesn't defy rain as easily as glass or metal, In her book, She Sheds: A Room of Your Own, Erika Kotite writes about a Pulitzer Prize-winning reporter Martha Mendoza's 50-square-foot office, which is a remodeled woodshed next to her tomato patch and connected to a clothesline.
DIY She Shed
If you want to keep it simple but still make room for guests, consider adding outdoor pergola with room for seating and an outdoor fireplace to make the perfect gathering spot.