Bioethanol fireplaces are continuously becoming more popular as more people are environmentally aware. These type of fireplaces come in all forms, shapes and designs and will fit into any interior style. You can still create a vibrant and warm focal point in your home, including that typical cosy atmosphere and homey feeling that only a blazing fireplace can bring, without exposing yourself and your family to harmful substances and air pollution. Thus, bio fireplaces are the perfect alternative for everyone looking to reduce their carbon footprint.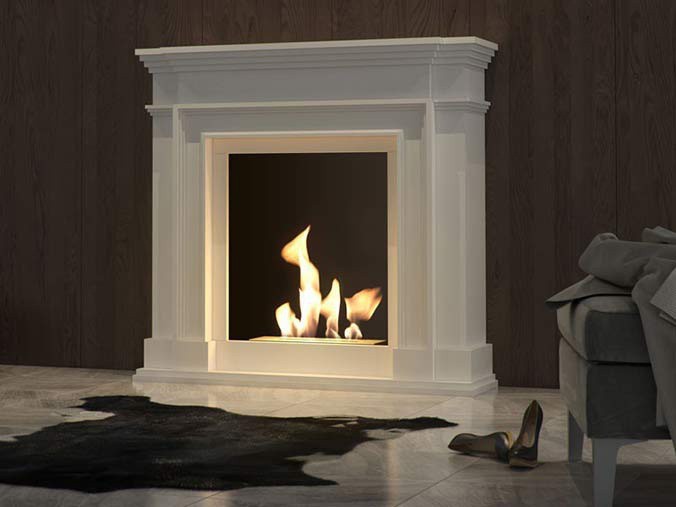 What makes it eco-friendly?
Bio fireplaces burn on bioethanol. Unlike conventional fuels, bioethanol produces no harmful emissions or even smoke that pollutes the air. According to a recent environmental study, bioethanol releases up to 88 percent less CO2 when burned, depending on the production method used. Additionally, bio fires do not produce carcinogenic substances or other particles that can harm your health. No greenhouse gases are being emitted, as the main by-products of a bio fire are heat and water. Using a bio fireplace therefore does not contribute to the global issue of climate change, which threatens to destroy many of the landscapes on our planet. All these strong arguments make bioethanol an eco-friendly alternative to conventional alcohol and fuels.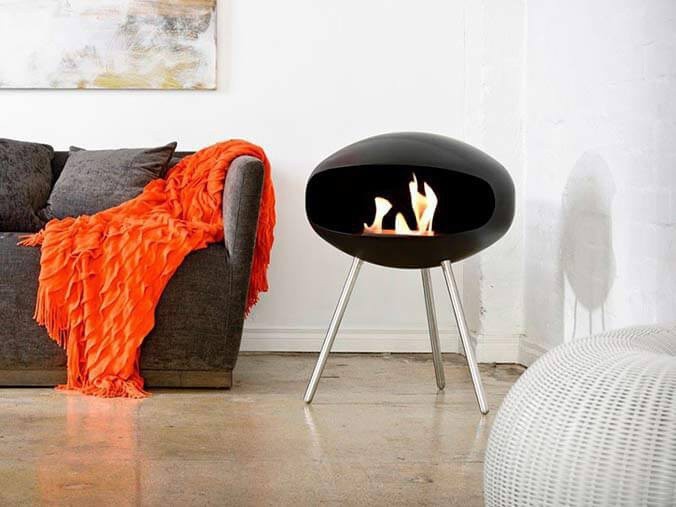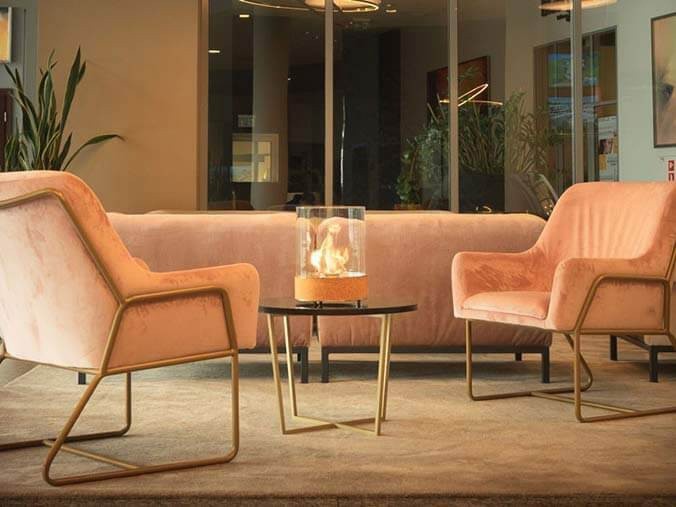 What exactly is bioethanol?
Bioethanol is an alcohol made by microbial fermentation, mostly from carbohydrates produced in sugar- or starch-bearing plants such as corn, sugarcane, grains and potatoes. These resources tend to have a lower carbon footprint than fossil fuels. Depending on its percentage, bioethanol can substitute transportation fuel, the alcohol used in cosmetic products or alcohol used to light a fireplace. In many countries, for example, 100% pure bioethanol is mixed into gasoline for cars, making the gasoline "greener". Household rubbing alcohol are also often based on bioethanol, with an alcohol content of about 90%-93%. For your bio fireplace, we recommend using bioethanol with an alcohol percentage somewhere between 95% -100%. Keep in mind that a 100% bioethanol burns faster, hotter and with a larger flame than a bioethanol of, for example, 96.6% and not all bio fireplaces are built for this. To avoid mistakes, check with your supplier before filling your fireplace.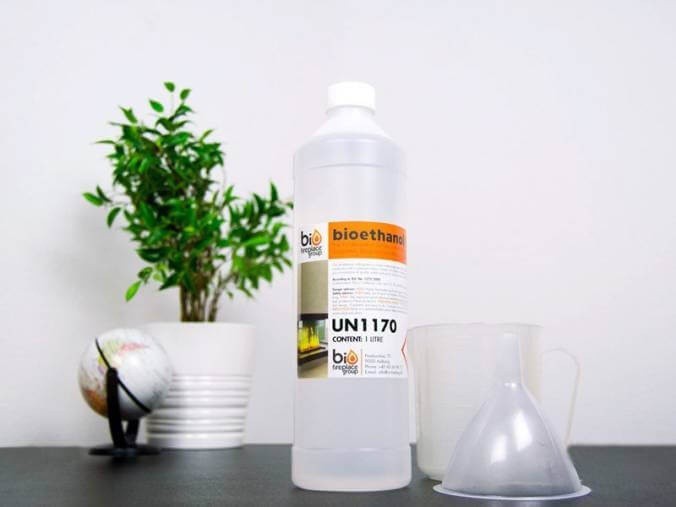 Is it safe to use bio fireplaces?
When you are dealing with an open fire, it is important to treat it with respect to avoid fire hazard. One of the most important things to consider when buying and installing a bio fireplace is the safety distance that must be from the bio fireplace to other things and materials.
Be extra observant with curtains and the like which are moveable by the wind. Make sure that elements such as these will not get near the open fire and minimum have a security distance of 1 meter from the bio fireplace. When bio fireplaces began to gain more popularity at first, a series of serious accidents happened. Bioethanol, just like gas, ignites and extinguishes extremely fast – a fire can spread in a thousandth of a second.
The accidents were all based on low quality burners, which were made out of unfit material that expanded and shrunk with the change of temperatures, and as a result, a leakage in the burner was produced. The material could not hold the pressure anymore, so the fuel streamed out and the fire spread.
Ever since these accidents happened, the European Commission, in consequence, sharpened the requirements for fireplaces that use alcohol as a fuel. They developed a standard of security requirements, which makes it illegal to sell bio fireplaces that do not meet the requirements. Just with any other fireplace it is therefore advised to check if the requirements have been met, before buying a bio fireplace.
Logically, a higher quality burner would be the best option to go for, even if that means spending a little more money. Keep in mind, that there have been several new developments and technological improvements since bio fireplaces first have been introduced to the market, which consequently make ethanol fireplaces indeed a safe fireplace to use inside or outside of your home. So is a bio fireplace dangerous?
Not more than a regular fireplace. As long as you are using your common sense, follows the instructions and handling the open fire with care you should not be afraid to install a bio fireplace in your home.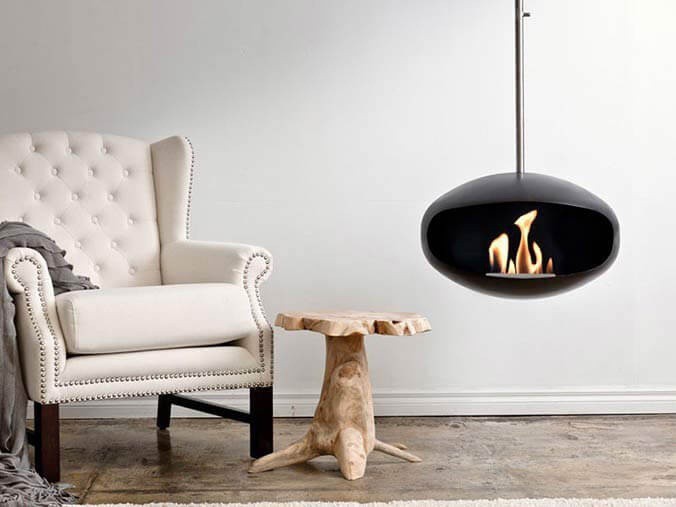 How do I install a bio fireplace?
The installation of a bio fireplace is very easy but can differ depending on how and where you want to install it. Always read the manual that comes with your bio fireplace beforehand. A bio fireplace does not require a chimney or any other fume outlet, as it does not produce smoke or soot. It is therefore a flexible solution for anyone who wants to experience the comfort of a fireplace without the effort and hassle of installing a chimney first. Bio fireplaces can be installed in many ways.
They can be mounted directly into the ceiling, or built into walls; in this case, you must ensure that the material of the ceiling or wall is made for a fireplace installation. If you choose a freestanding fireplace, or a built-in version for a shelve or room divider, there is not much installation involved, as most bioethanol fireplaces and fireplace inserts are delivered to you already completely assembled. All you have to do is find a suitable place in your home.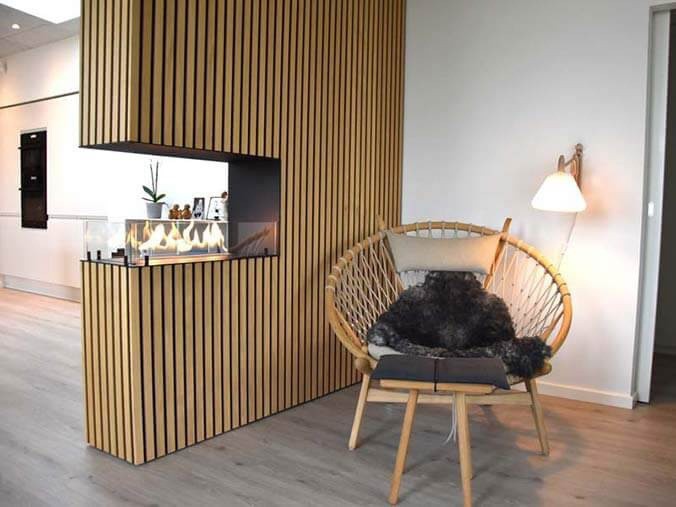 Which designs can I expect from a bio fireplace?
The design of bioethanol fireplaces ranges from simple stainless steel-metal products to intricately designed fireplaces with noble and high-quality decorations and applications. Whether you are looking for hanging, freestanding or wall-mounted fireplaces, their variety opens up many new design and furnishing possibilities.
Whether in black, in silver, in grey or with polished stainless steel, bio fireplaces are available in all imaginable versions and designs. Choose between a more traditional look or go with a very modern sleek model – there is definitely a fireplace for every taste and desire out there. To achieve a more authentic look you can also decorate your fireplace with ceramic-wood logs or pebbles. Ceramic decoration does not burn and can be used countless times.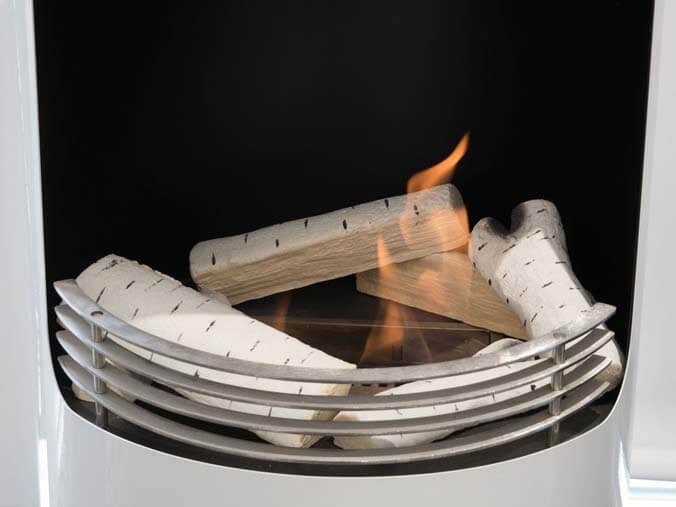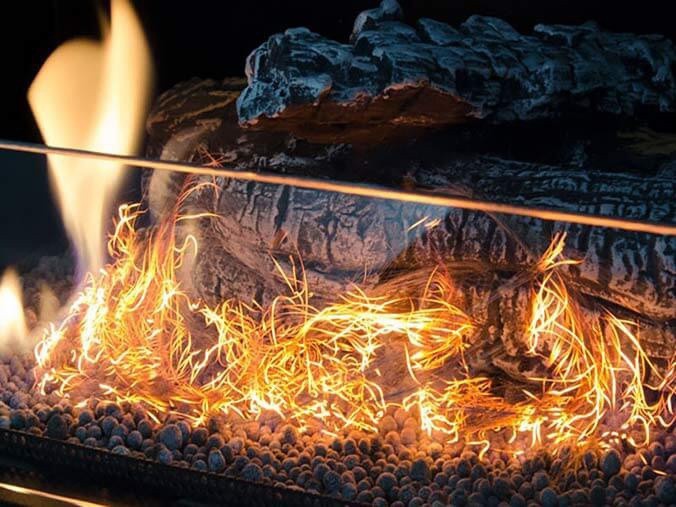 Conclusion
Bio fireplaces are paving the way towards a more sustainable, environmentally aware way of life. They are not only eco-friendly as they run on bioethanol and do not produce harmful emissions and pollution; they are also easy to install and to use. Their huge variety of styles and designs fit into any interior concept, no matter if you are looking for a fancy decorative addition for your living room, or a simple and more traditional looking fireplace.
Author:
Biofireplace Group is a Scandinavian online retailer that has built its business by always offering its customers high-quality products at good prices. For the most part, the price of our products is lower than that of our competitors. This is possible by operating as a pure web shop; we therefore eliminate the expense of a physical business and ultimately reduce costs for our customers. We offer a unique selection of top-notch products made by European manufacturers for our customers in ten different countries.