Brighter and bolder door colors are in these days. It isn't even just about them looking nice. An attractive door draws attention to it and thus to the property.
The first step in choosing a door colour is to select whether warm colours such as red, yellow, grey, or cool colours such as blue, brown, green are your choice. Once that is decided, there are many colors within this spectrum to finalize on. If you ask what is in fashion today, it has to be Aqua, Mustard Yellow, Peach, etc. that is your answer.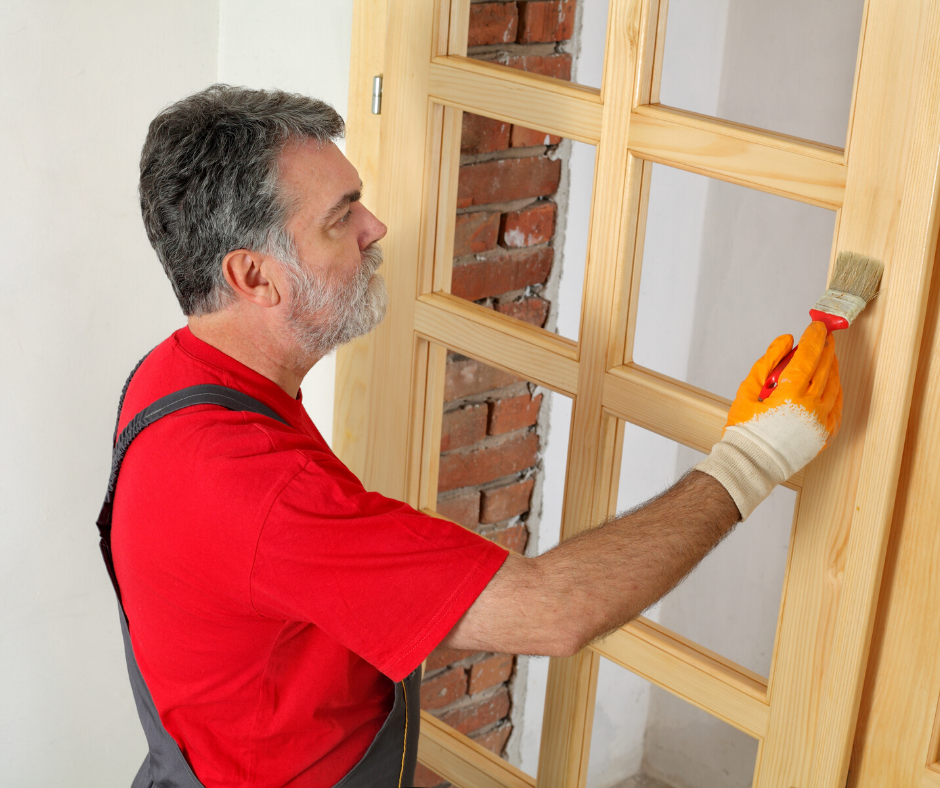 Choosing a door color must gel well with the look and feel of your home exterior in its entirety. Be sure your whole family likes it, and it reflects the message you all want it to. How do you choose the best one? It's simple. Choose a few chips and check them out in the setting at all times of the day. All of the interested parties should be included in the decision making only then make a choice.
Do you feel like your room or sitting area needs to look fresher and better? A change as small as painting the door can make the entire look different. Here we will tell you just how to go about it, so you know it all from what paint to choose to how to go about the whole painting job from scratch to end.
You're going to need a few things to start yourself off:
Clean cloth rags
A drop cloth
A wood filter
A cleaner for multiple surfaces
A painter's tape
A paintbrush (1/1.5/2 inch)
Primer
Satin or semi-gloss enamel paint
A few additional optional items are:
Putty knife
Sandpaper (80/220 grit)
Deglosser/ liquid sandpaper
Now that you have the things you need let's see what paint kind to use on a door. There are special paints designed for exterior surfaces. You can use a glossy or semi-glossy paint or even an eggshell or flat finish one. The first one is the most advised as it shows the least of scrapes and nicks. It also helps the door show off its architecture design well.
You will also have to choose between oil-based water-based or latex paint. Each has its own advantages and disadvantages. An oil-based has the most durability but requires the most time to dry and most care when cleaning spills. The latex is the easiest to apply and clean but not as durable.
It would be best if you remembered to take care of the weather when painting your door. Choose a sunny day that won't get too hot, ideally. For drying, the humidity must not be too high or low, and thus an ideal humidity of 40 – 50% is recommended. If you are unsure, take the help and advice of a professional.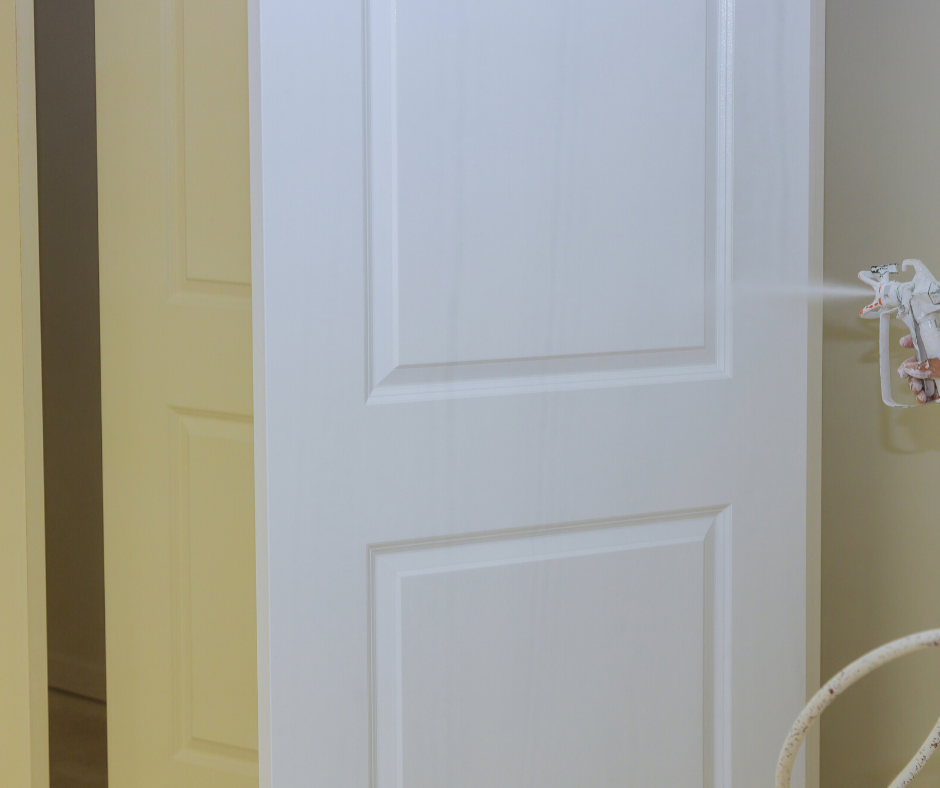 Here are the steps to finally now paint your door:
The first step is to pick your paint. It is crucial to choose the right kind of paint and sheen. Our advice would be to go with a paint categorized as enamel or trim/ door. It has self-leveling properties that allow a smooth finish. They are also more durable than latex paints. For sheen, the best option would be satin or semi-gloss.
If you listen to us, don't go for foam rollers as while you use them to avoid stroke lines, they still leave one form of stippled texture. It is best to use quality paintbrushes. Use them with good quality enamel paint, and thus the texture is as close to perfect as possible.
Do not start your paint job before giving the door a good clean. Use regular home cleaning items or soap and water. As long as the dirt and grease are removed, your work is done.
If your door has any old holes, do remember to fill them with wood fillings before you begin painting. Smooth the fillings and let the area dry out.
Make sure to use the sandpaper or deglosser to level it. The former can be used to get rid of old chipped paint or smoothing imperfections.
A painter's tape can be used to tape the doorknobs if you aren't removing them. Please do not leave them as is when you paint for sure. The same goes for hinges.
You may believe that your paint having primer in it is enough. However, there are many scenarios where it is imperative that you use a primer. The only time you can avoid using it is if you are painting the same kind (oil/ latex) of paint as was initially present.
Painting the edges first allows the paint that drips to the mainframe to be used and spread. Thus, it becomes a modus operandi to paint the visible edges before painting the rest of the surface.
For paneled doors, start with the recessed panels and paint on squares starting from the top left corner going downwards and then onwards. Keep note to clear and drips and excesses as you paint.
Top-down is the best manner to paint the door. To paint, you must first do the top horizontal rail, then the center vertical stile followed by the remaining horizontal rails. Once the paint is dry, only then paint a second coat in the exact same manner.
Painting all by yourself is a great idea. If you are not consulting a professional, then you are bound to make some mistakes that are inevitable. We often know how to do certain things, but due to a lack of proper knowledge about the steps and technicality of the task, we make mistakes.
Hire a Handyman At Your Service to get a professional touch and you can call us 347-771-9971, or Read more about the Best Painting Services in NYC