Do you feel a little depressed every time you enter your kitchen?
Are you spending more and more time on Pinterest, gazing longingly at those gorgeous kitchen interiors?
Are you ashamed to invite guests over for dinner?
Maybe it's time for a kitchen upgrade.
Let's see some kitchen remodeling guide and tips to save money on our dream kitchen
Here's the truth. Your average kitchen remodel starts from around $20,000.
This is excluding appliances and any demolition work needed beforehand.
With large renovation projects like these, costs can easily start to spiral.
But hold on, don't wallow in despair.
Your dream kitchen might not be as far off as you think.
>> Trending Now: Top 7 Kitchen Renovation Ideas <<
Here are a few tips for cutting the cost of your kitchen remodel, potentially saving you hundreds, even thousands of dollars.
Salvage What You Can of Your Old Kitchen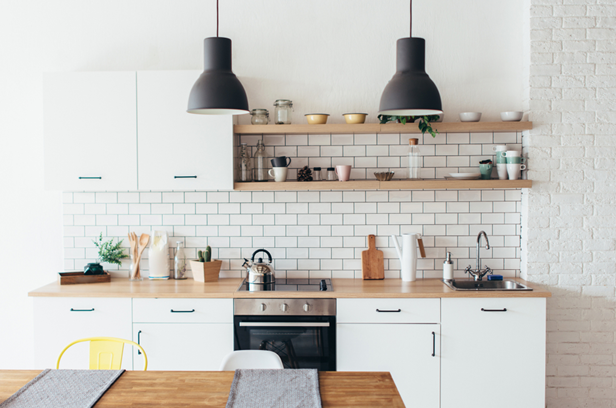 Your first step when trying to save money on a kitchen remodel is to take a look at what you've got. If you've got fixtures or cabinets that are still in good condition, don't waste money by ripping them out and replacing them with expensive new ones.
Plus, you'll save on scrappage costs by keeping or repurposing what you can.
Use your existing kitchen structure to create your brand new kitchen and you could save thousands.
If you can, keep the current layout of your kitchen.
This will save countless costs in rewiring, replumbing, labour and other materials.
This way you can keep it simple and stop the costs getting out of hand, while still leaving plenty of scope for your imagination.
Do-it-Yourself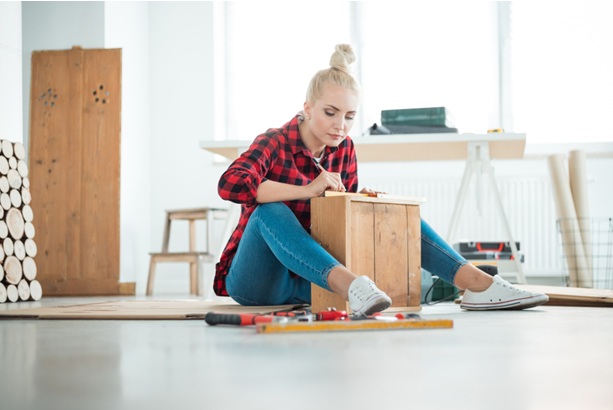 Labor is the second most costly part of a kitchen renovation.
Where possible, opt for DIY rather than hiring a contractor.
You'll be surprised at what you can achieve yourself with a trip to the hardware store and a few Youtube tutorials.
When it comes to more complex tasks like wiring, plumbing or structural changes though, it might be safer to call in the professionals.
Before you're ready to install that new kitchen, you'll probably need to remove some of the old stuff.
Demolition costs can really add to your expenses.
So why not do it yourself?
Besides, what better way to release some stress than by taking a large mallet to some old worn cabinets.
If you decide to handle the demolition yourself, take care to be safe.
Wear protective clothing and goggles, make sure you aren't going to cause any structural damage or take out any electrical wiring. HGTV has a helpful guide on DIY kitchen demolition here.
Forgo Custom Cabinets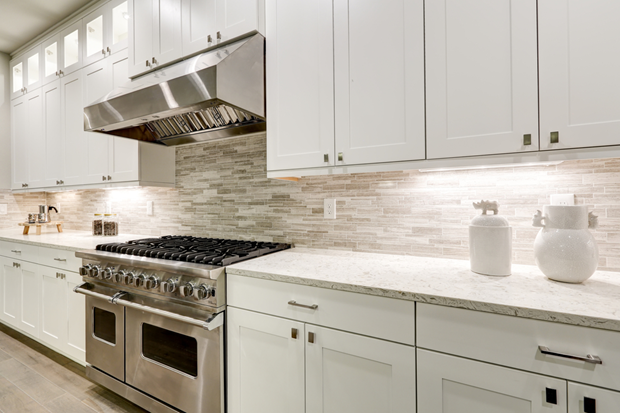 The biggest expense, coming in at around 30 percent of the total cost of a remodel, is the cabinetry.
Custom cabinets could set you back anywhere from $10,000 up to an eye-watering $60,000! In stock or ready to assemble cabinets are way cheaper than custom made, resulting in huge savings.
You may have to settle for adding in some custom moulding of fillers to make it fit, but it'll be worth it when you get that final bill.
As we mentioned before, if you can keep your existing cabinets – do, provided they are good quality.
To upgrade them to match your ideal kitchen, consider new doors, painting or resurfacing them.
You can find some chic inexpensive drawer pulls and door handles online in places such as Etsy or Ebay.
Alternatively, consider eschewing cabinets altogether and invest in some open shelving.
Not only can this save money, but it will also create the illusion of more space, opening up your kitchen.
Grab some reclaimed wood online or from your local hardware store and install them yourselves, provided you're handy enough with a drill.
Shop Around for Appliances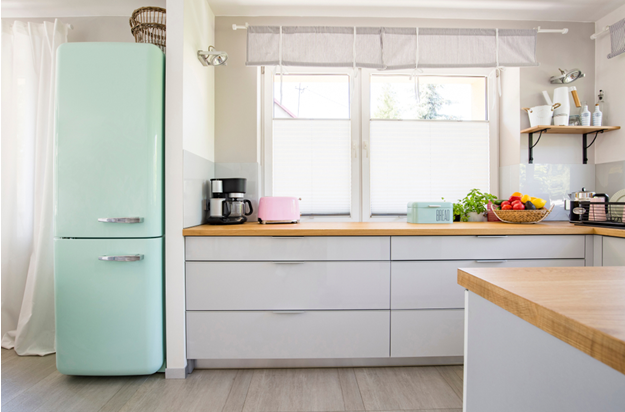 If you've got your heart set on new appliances for your dream kitchen, don't be intimidated by the price of some of the latest top of the range products.
You can easily find great bargains on appliances from local stores and even online. Dreaming of owning some beautiful vintage style Smeg appliances?
Look out for ex-floor models or graded appliances that may have some minor cosmetic faults or damaged packaging.
Most big brand manufacturers frequently offer huge discounts during sale season.
And of course, there's always Black Friday.
Reuse, Repurpose, Upcycle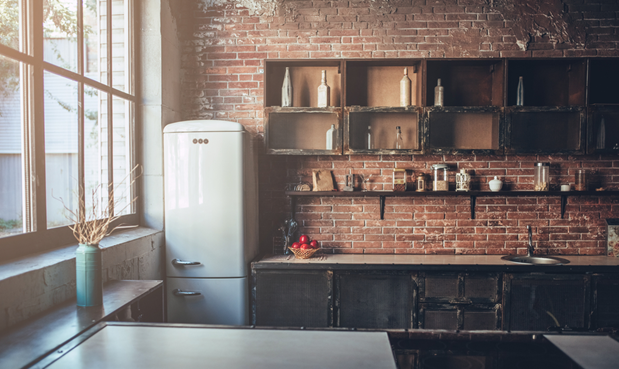 Odds are, if you look around your current kitchen, or your home in general, you'll find plenty of things you can reuse or repurpose to fit into your dream kitchen.
Upcycle your old, dated fixtures with a coat of spray paint. Spruce up worn looking cupboards with new handles and a fresh finish.
You can often find hidden gems at thrift shops and the bargain bins at the local hardware.
If vintage or farmhouse kitchen is your preferred style, look online on places like Craigslist or at vintage flea markets for things you can use to get that rustic look you're after.
Perhaps an old cart that can be repurposed into a moveable kitchen island.
Or a lovely old dresser could hold cookbooks and utensils.
Reuse materials where you can.
For those you can't, or don't want to use, consider selling them to make back some of the cost of your new kitchen.
Floorboards, doors, etc. can be sold on sites like eBay or Gumtree. This will also cut down on your scrappage costs.
Add High End Features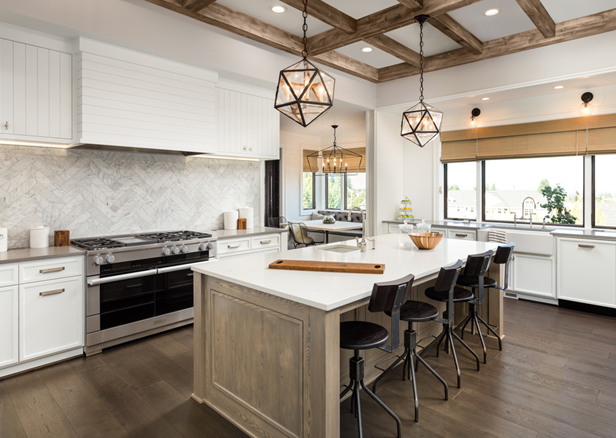 If you want a kitchen that looks high end, instead of blowing your budget on all things designer, consider investing in a few key pieces that will give your kitchen that high end look without the price tag.
Go for that designer pendant lighting or that marble countertop, while making savings on the other elements of your kitchen.
By making these items a feature, they'll stand out and look all the more impressive.
Choose Reliable Tradespeople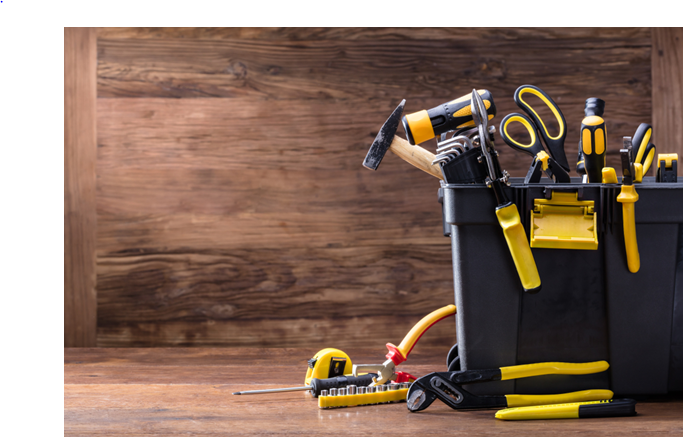 Sadly, many of us know someone who has been at the mercy of bad contractors, who have left them with a big bill and more problems than when they started.
Don't make the mistake of hiring contractors that aren't reliable.
Make sure you find good, trusted tradespeople who come highly recommended. And don't be afraid to shop around for the best quotes.
But remember, cheaper isn't always best.
Follow these tips and you'll find that your dream kitchen is much more affordable than you first thought.