The numbers continue to rise regarding the working professionals who handle their business moves from the comfort of their homes.
Not only are they saving on expenses like gas, but they're also enjoying a schedule on their own terms.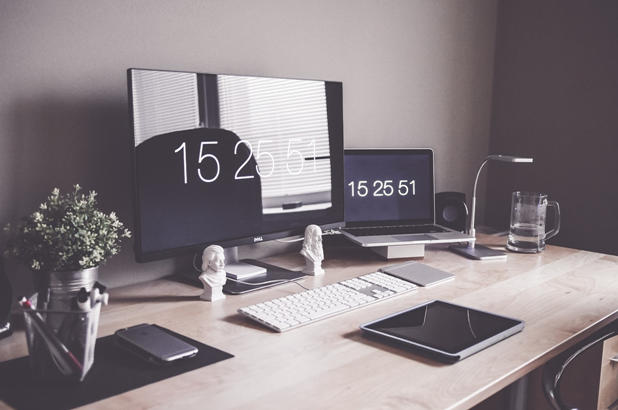 source: pixabay.com
When you work from home, it's really important to remain disciplined. If you're constantly working on laundry, personal projects and tasks that have nothing to do with work, you'll soon find yourself without a home to live in.
One of the best ways to remain focused and disciplined is by creating a home office in which you'll actually want to stay and work.
Consider the ways you can make this happen.
1. Incorporate Good Lighting
Natural light tends to be the best light. If you want to really enjoy the benefits of good lighting, try to find a room in your house that gets flooded with natural light.
As the sun rises in the east, it's great to find a room on the east side of your home that has a great window. There's nothing like a bright, sunny morning to motivate you to work.
Additionally, maintain adequate lighting to get work done.
If you can, find an eco-friendly option to help you decrease your carbon footprint.
2. Create the Right Color Scheme
The color scheme really matters.
If you're not an interior designer and don't have the extra funds to find one, start with an all-white palette. Purchase white furniture and paint the walls white.
Then, you can incorporate colors within a specific palette.
For example, jewel tones are very specific colors. That palette includes cobalt blue, emerald green, and fuschia.
When you pick colors within a specific family, they'll complement one another without a lot of effort.
Incorporate color by picking an interesting piece of artwork, a stunning lamp or a nice vase.
3. Visualize Your Reason Why
There will be days where you don't feel motivated to do anything. During these days, it's important to figure out the reason why you work.
If you have mouths to feed, create a gallery wall feature that showcases your family members and friends.
When you're able to see your loved ones, they might be able to serve as a good reminder to keep going.
Find a few quotes that inspire you. Write them down on a whiteboard every day before you start working.
As you're able to visualize those quotes, the life and desires of your dreams will remind you to keep pushing.
If there's a vacation you really want to take, find a few pictures of that place.
Create a screensaver on your desktop. When you stop working for two minutes, create a timer that prompts those pictures to pop up.
This might help to interrupt you in mindless, fruitless activities like scrolling on social media or gossiping with your friends.
4. Prioritize Comfort
If you're uncomfortable, it's going to be a challenge to get your work done, especially if your chair and desk makes your back hurt.
A little bit of research on the best setup will help you determine what type of chair and desk can work for you.
In fact, you should research the latest office design trends to see how design can improve your efficiency, health, and motivation.
Make sure your chair is ergonomic and comfortable. It should support your body's ability to sit up and work.
Make sure there is support for your entire back. Bad posture will cause issues down the line if it's not corrected and encouraged.
Keep your feet flat on the floor. If you need to wear sneakers to support your feet as you sit, wear them. There are many who suggest that sitting is the new form of smoking.
When you're sitting at a desk for hours on end, it can lead to issues like weight gain, stiffness and more. A standing desk is an increasingly popular design in office trends.
Click here to find electric standing desk.
5. Focus on Organization
While there are many people who can thrive in any situation, many more people need to maintain a high level of organization.
It's often stated that clutter is just a manifestation of what's happening in a person's mind.
If you have so many things floating through your head, it's hard to focus and concentrate.
Start by looking at your environment.
Are papers disorganized and scattered? If so, take a few hours during your weekend to create a filing system. A good system can free up much space in your environment.
From a visual perspective, it's incredibly satisfying. When you keep each item in its rightful place, it's a lot easier to know where to find everything when you need it.
Empty the trash can and the shredder on a consistent basis. Maintain a cleaning schedule for your office.
As you do this, you'll increase the level of respect you have for your office and your work.
6. Keep It Fresh
Don't forget that the air quality matters too.
Keep your air clean by opening the windows for at least fifteen minutes each day. Just by allowing air to circulate throughout the room, you'll breathe new life into space.
Use a diffuser for ten to fifteen minutes a day.
Essential oils like tea tree oil, lemon oil, and eucalyptus oil are excellent for cleansing and sanitizing the air.
Indoor plants are extremely effective in boosting a person's mood and cleansing the air as well.
Final Thoughts
As you get into the habit of maintaining an office you'll want to work in, you'll see your productivity increase. As your productivity increases, the more success you'll experience.
Success is such a motivator. Knowing this, implement these tips.
Everything is connected.
The color scheme is connected to your productivity just like the sunlight is connected to your mood.
Find the right formula that works for you, and your results will skyrocket.
About the author:
Heather Redding is a part-time assistant manager, solopreneur and writer based in Aurora, Illinois. She is also an avid reader and a tech enthusiast. When Heather is not working or writing, she enjoys her Kindle library and a hot coffee. Reach out to her on Twitter.