Installing solar panels is a great way to save a ton of money spent especially on energy expenditures and it can also be your first step on living a greener lifestyle which is why each year the number of households in Brisbane who invested in using solar panels are continuously increasing according to statistical finding.
So if you're planning to be part of the Brisbane Solar Power craze, one question may snap in your mind.
"What are things to consider before making an investment in solar power?"
In this article, I will share you some of the basic things to consider before installing this eco-friendly energy source in your household.
5 Useful Tips before investing in solar power
In Brisbane, it has been a popular for many households to invest in solar panel mainly because the city has a subtropical climate ranging from warm to hot weather throughout the year and as the electricity expenditures are increasing, more and more homes and even firms or business choose to invest in using solar power.
5 Things to consider before investing in solar powers
Tip #1: Check your roof's maintenance level, shape, and weight
Before deciding to invest in solar power in your household, you need to ask yourself if your roof needs repairs, or does it need a new one. In this way, you can be sure that you won't need to pay for extra maintenance bills.
Also, check your roof's warranty because a typical solar power will last for about 20 years while roof can only last for about 10 to 15 year. It is also advisable to check the shape of your roof mainly because installing solar power may require wide-space, so be sure that there is enough room or space for it.
You should also check the construction of your roof because solar power installation will increase its weight and can potentially cause it to collapse. Ask for a professional to evaluate your roof before deciding to complete the installation. In this way, you likely will get the return you're expecting on your investment and reduces maintenance costs as well.
Tip #2: Evaluate how much energy does your household requires
Each house may consume energy in several amounts which depend on several factors such as the number of households living in the house, the types of electric devices they are using and so on. Knowing how many solar panels are necessarily based on the average electricity consumption of your house play a vital role in ensuring this energy source's effectiveness.
To find out how much energy will require running a large system (approximately) multiply the Kilowatts of energy you consume on an average day to .25, following your electric bills.
Tip #3: Check the Cost range and warranties
Another thing to consider before making an investment in solar power is the cost range. It can be difficult to choose good quality solar panels with low prices in some states, but the good thing is, Brisbane solar power has never been lower. Below is the cost range table that you should follow in order to give you a rough ballpark figure to start.
Warranties are also important before investing, some of these warranties include solar panel warranty which could usually effective for 25 –30 years, installation warranty for both labor and replacement components that could last from 2 – 10 years, and inverter warranty with 5 – 10 years period which covers any defects from manufacturing.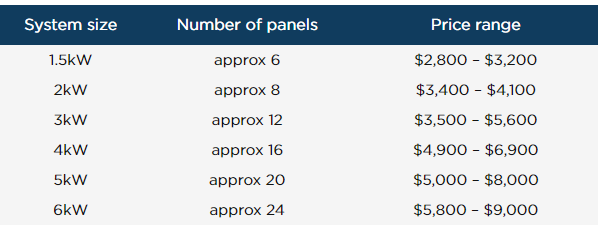 Tip #4: Check the location of your house
To transform solar power into electricity, panels will require enough amount of sunlight which plays a significant role in assessing the types and number of solar panel that should be installed. The place where you live or simply, the region could seriously affect the solar power's effectiveness.
Make sure that the panels are directly exposed to sunlight primarily because the longer your panels are exposed to sunlight, the more it could efficiently produce energy. Some solar panels may react to shadow in several ways, and some may shut down entirely while others reduce the output.
Tip #5: Opt for Professionals for installation
As the use of solar power has become increasingly popular during the past few years, finding a good help can be problematic mainly because there are some people claims that they know what they're doing but in reality, they're not.
When it comes to the installation of solar panels, you should always consider hiring skilled professionals like novasolar.com. As professionals like this have a great reputation that can provide excellent service as well.
Conclusion:
It may be true that investing in solar power might be no longer profitable as it was the past years in terms of running it as a business. But using this eco-friendly and electric-expenditure saving power source can still be worth the investments, especially in states which were the cost of electricity, are continuously increasing like Brisbane and the rest of Queensland.
Using solar power is no wonder a greener and cleaner way to not only cut down energy costs but also helps in saving the planet.