Looking for best kitchen breakfast bar design ideas on a budget for your kitchen in modern home, then read this to know more about top 20 sytlish kitchen bar design ideas
We eat breakfast and start our day in the kitchen breakfast bar.
But have you thought about what makes a kitchen breakfast bar perfect?
Not only the grand layout, the sleek materials, or the eye-catching bar stools but also a feeling of warm and comfortable.
Whether you kitchen is small or big, add a bar to make your kitchen more unforgettable.
Kitchen breakfast bar stools can be a great addition to your kitchen.
Not only do they create a social atmosphere, they are somewhere for you, or your kids, to sit and grab a quick bite to eat.
All you need to know about kitchen bar stools
Choosing the right stool can be tricky. There are so many on the market, in all shapes, sizes, colours and designs.
It's vital you pick bar stools that fit with the design of your kitchen, however they must also be comfortable and easy to use.
As items of furniture stools draw attention as soon as people walk into the room, so you should aim to buy ones that don't look out of place.
How to choose the perfect kitchen breakfast bar stool
The first thing to determine is the size of bar stool you'll need, relative to the size of the kitchen breakfast bar. Y
ou should first visualise how high you want it to be- how much leg room do you want, do you want the breakfast bar to be higher or lower when you sit on the breakfast stool?
After that, you should carefully measure up, taking measurements of height, width and depth of the stool. Note these measurements down somewhere and keep them safe.
A common mistake you don't want to make is getting the breakfast stool home and finding it's too big or too small for the bar. So think… measure up correctly and try before you buy!
Another thing to consider is what it will be used for.
Will it be a breakfast bar stool for the kids, a general perch for everyone to use, or merely a furniture stool to take up space and look good?
How many people are in your family?
and how many do you want sat at the kitchen bar at one time?
Each of these issues will determine the type, design, number and price you'll want to look at.
You should then consider how the stool will look in your kitchen. Is it the right colour?
Does it fit in with your retro/traditional/modern kitchen design?
Does it make a statement about you?
A good idea is to take photographs of colour schemes and designs already in your kitchen, and take these with you when looking at potential purchases…then you can be totally sure everything works well.
And if you can't find the right stool in the shops, why not consider drawing your own design schematic and getting it custom made at a metal worker or carpenter.
That way you can guarantee it will be the perfect fit for your kitchen and be totally individual!
After all this planning, go out and look around for some to buy!
Go and sit on the bar stool, feel it to see how comfortable it is, take your kids to make sure they can get onto it…try before you buy!
Pick a selection of ones you like and then try to narrow it down to a selection of 3 or 4.
The best way to do this is to photograph the stool and then take the picture home and see how well it fits with your kitchen design.
This costs you nothing, and can save you a lot of time, effort and money in the long run.
If you're struggling for kitchen bar design ideas, or don't know what types of kitchen bar stool are available on the market, check out below guide.
Kitchen breakfast bars can fit in any kitchen
Adding a kitchen island breakfast bar to the room can allow for a lot more space and utility in the kitchen.
Many homeowners can add value and usefulness to the room by installing a kitchen island bar.
Since there are many sizes and types of additions to choose from, finding the correct kitchen island breakfast bar can be challenging.
Homeowners who do decide to install a breakfast bar usually find that the extra storage and eating space is much needed.
Their guests can enjoy a kitchen island breakfast buffet because the addition offers so much extra room for food display and sitting space.
A kitchen island breakfast bar comes in a variety of sizes. The homeowner should first plan and measure the target installation area before choosing the island.
Some homeowners may want a long, L-shaped bar because it would shape their kitchen and provide the most counter, storage and eating space.
However, those homeowners who have a small kitchen and need to install the addition on a smaller scale may choose a custom kitchen island bar that is small and square and can be placed in the middle of the room.
Whether a small or large kitchen island breakfast bar is chosen, the homeowner may find a wealth of uses for the addition to the kitchen.
Even a small kitchen island bar can provide informal dining seating for at least two people.
Some of the bars also come equipped with space to hang pots, pans and kitchen utensils.
A smaller kitchen island bar may also come equipped with built-in cabinetry for storage.
The added counter and work space alone that a kitchen island breakfast bar provides can be extremely useful for a homeowner who uses the kitchen frequently.
Since most parties and gatherings are centered on food and drink, the kitchen is an important area for guests to feel comfortable in.
A kitchen island bar can provide the space necessary for food display or guest seating.
It may also allow the homeowner to store kitchen appliances that are hogging counter space.
The extra counter space offered by the kitchen island breakfast bar can make the kitchen feel more spacious and allow guests to feel more at home.
When choosing a kitchen island breakfast bar or kitchen island cart, a homeowner should examine the problems in the kitchen that he or she is looking to solve.
A kitchen island bar can come equipped with a number of helpful accessories such as a paper towel holder, hanging rack, cabinets, storage bins or shelving. Depending on the size of the kitchen island breakfast bar, it may sit from two to six people.
The bar can also be shaped as a square, rectangle or L-shape. The homeowner should design the kitchen island to fit snugly in the kitchen but still allow the kitchen to feel spacious and not crammed.
List of the top 20 kitchen breakfast bar design ideas on a budget
1. Elegant kitchen breakfast bar design idea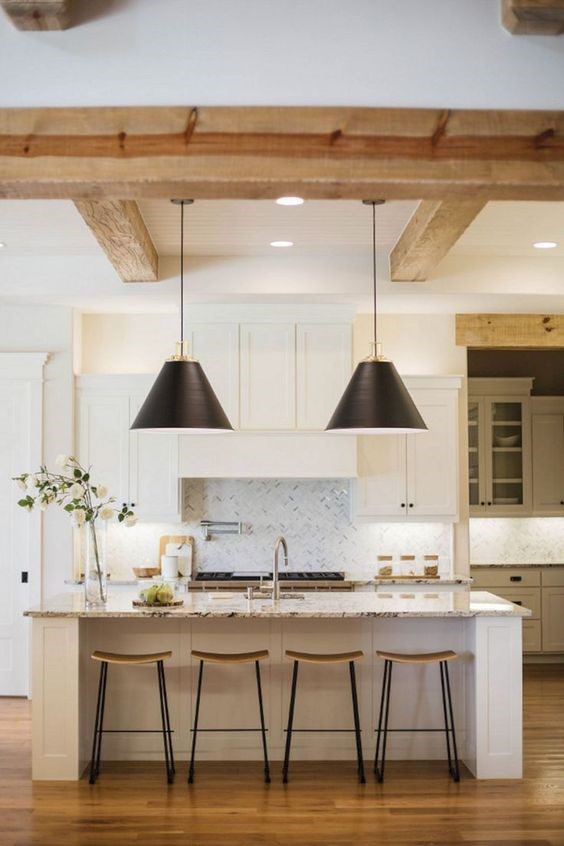 Make the kitchen refine elegant. Wooden accessories, a little white, a little marble, a bottle of flowers, and bright hanging lamps, bring your kitchen back to elegant.
>> Trending Now: Top 10 Kitchen Renovation Ideas <<
2. Luxurious kitchen breakfast bar design idea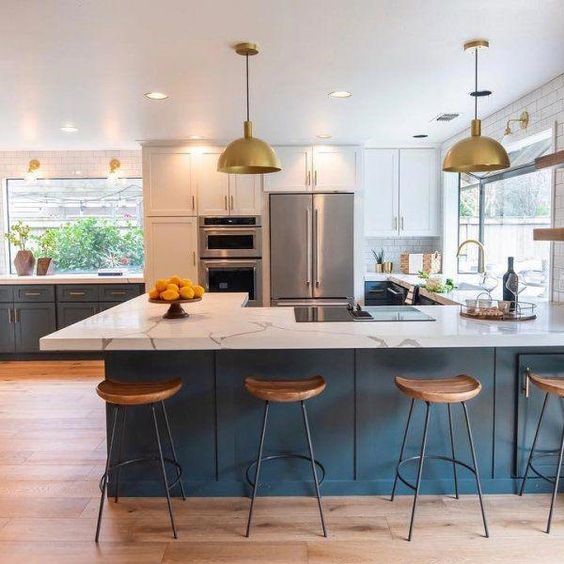 The white marble flow table with dark painted table wall, the recessed refrigerator, especially the gold pendant lamps above the kitchen bar looks more luxurious.
3. Cozy kitchen breakfast bar design idea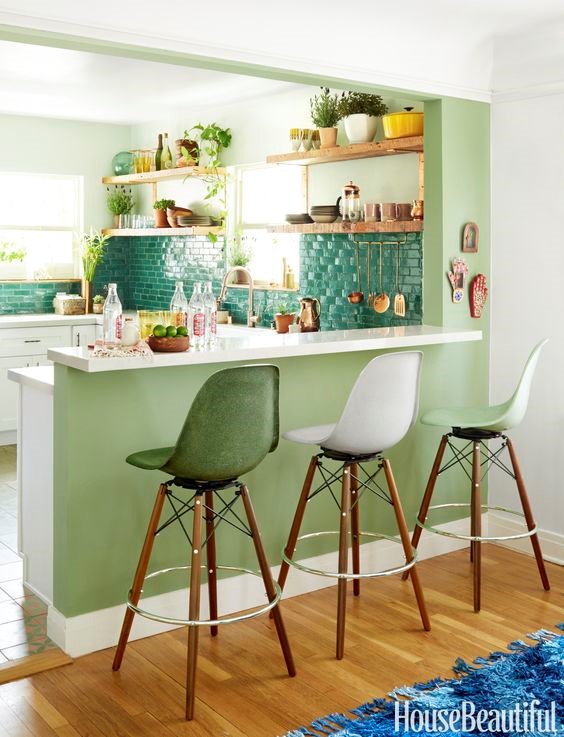 Break the rules. Kitchen bar also can be cozy and natural. Just like this, green theme painted, green high chairs, and some plants, make you feel cozy and comfortable when sitting beside the bar.
4. Window side kitchen breakfast bar design idea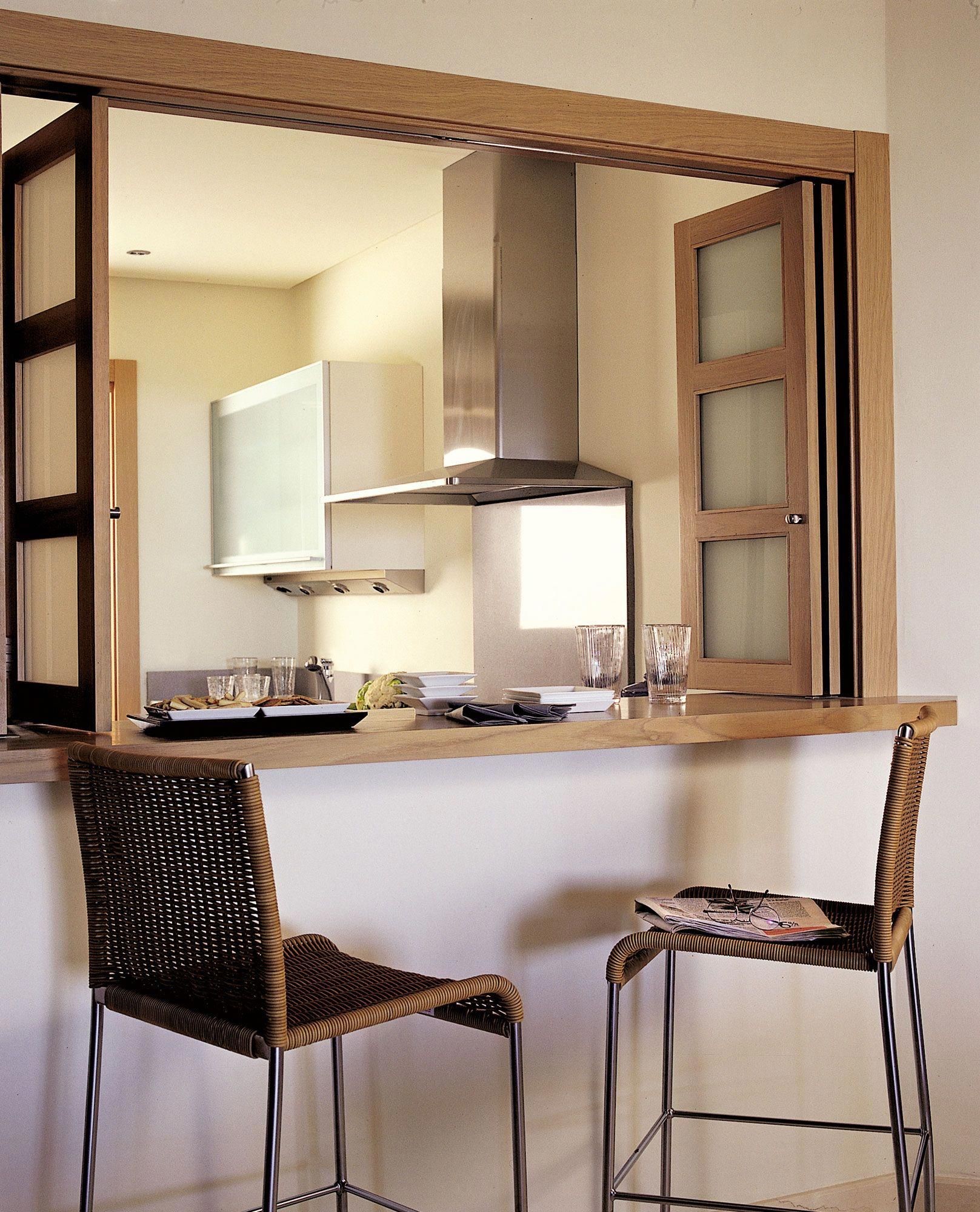 Sitting by the fake window, chilling with friends, drink some wine, spend a wonderful dinner, isn't is very comfortable? Wooden windows and wicker chairs make the bar more rustic and warm.
5. Classic kitchen breakfast bar design idea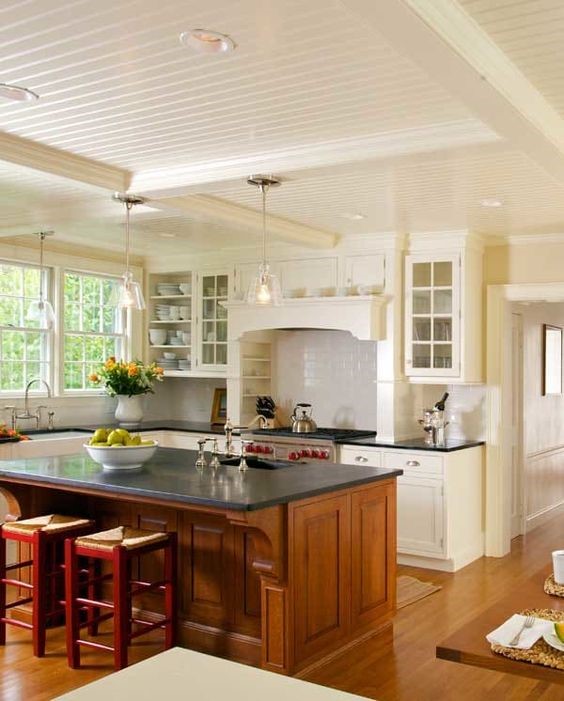 Classic is never outdated. The mahogany furniture and black marble table are classic combination. Otherwise, the glass pendant lamps brighten the bar.
6. Rustic kitchen breakfast bar design idea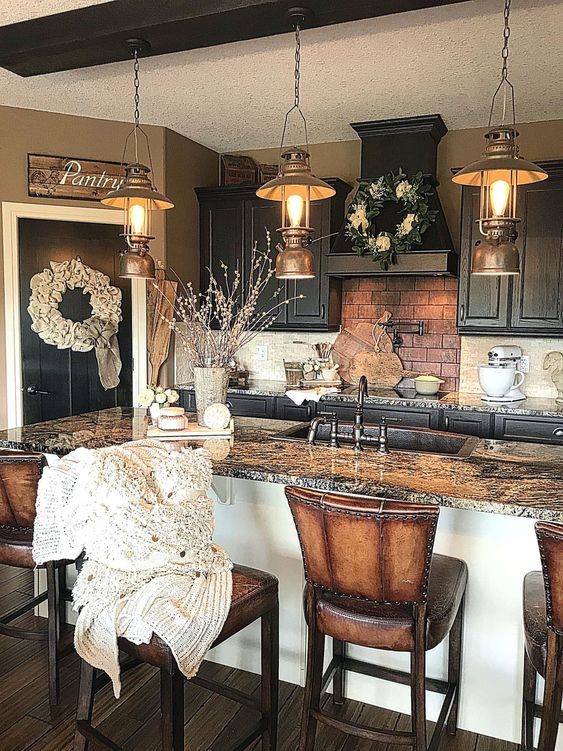 Are you yearn for the American farmhouse kitchen bar design? Make it more rustic. The stone wall, and the vintage lamps, bring you back to the rustic but not break kitchen bar.
7. Simple kitchen breakfast bar design idea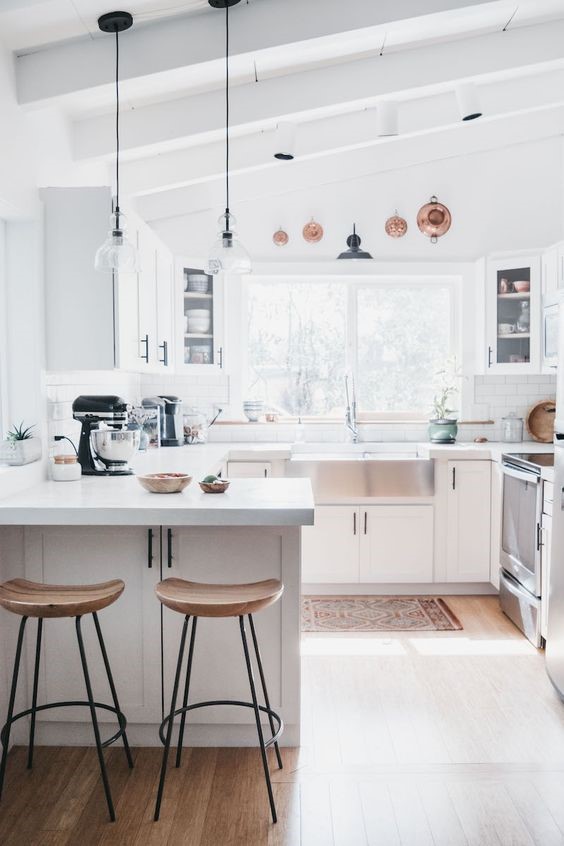 White is the simplest thing, paint your kitchen and the bar all white will make your small space looks bigger and clean. You can also look for the most popular white cabinets to add in your kitchen to finish that light and simple look. In this picture, the point is the wooden high chair, attract your attentions when you first see it.
8. Monochrome kitchen breakfast bar design idea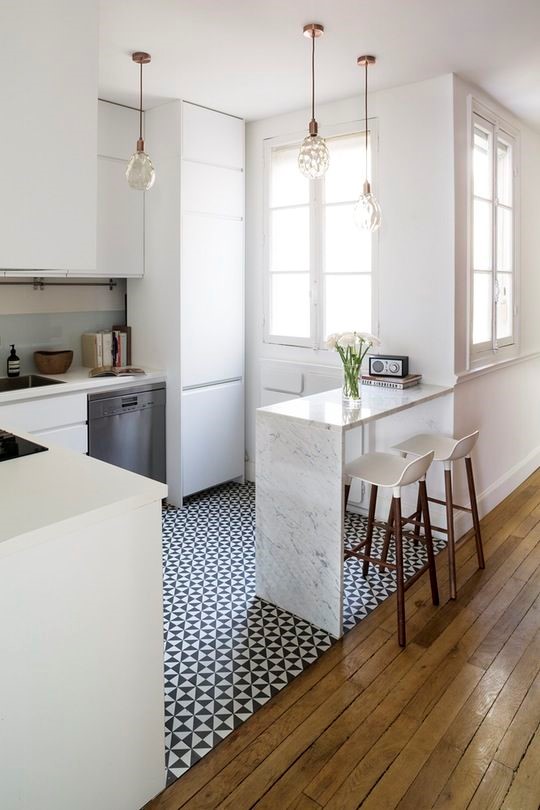 Monochrome kitchen will look boring, so you need make some point to appeal eyes. The white bar is fusion with the kitchen, but the geometric floor make the point.
9. Wooden kitchen breakfast bar design idea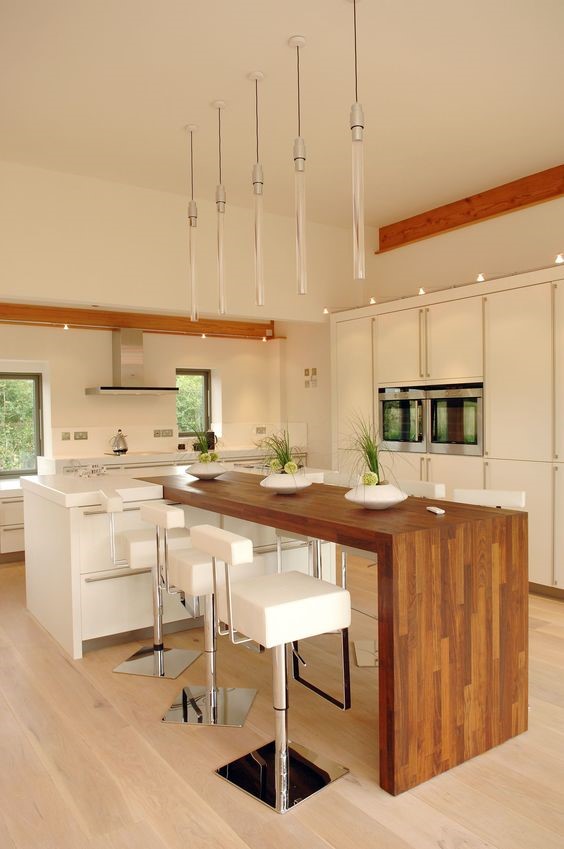 Wooden always is a popular choice to add warmth to the room. But how to accessorize them is important. As above we see a wonderful example, pay attention to the streamline of the wooden bar and the pairs of the white padded seats, creating a contrast of the dark and light.
10. Metallic kitchen breakfast bar design idea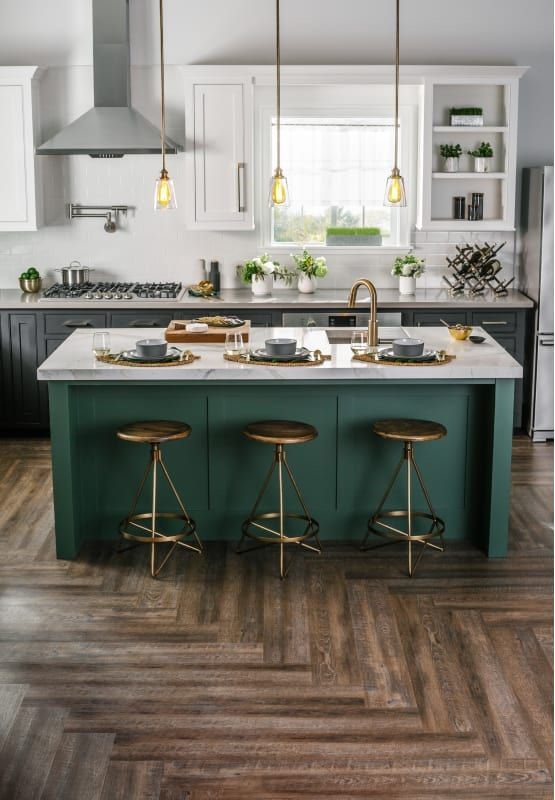 Metal is sleek, modern and timeless. We are fond of the look the metal kitchen bar above, the bright white cabinetry, the contemporary sink with gold accessories, really make your kitchen bar perfect.
11. Colorful kitchen breakfast bar design idea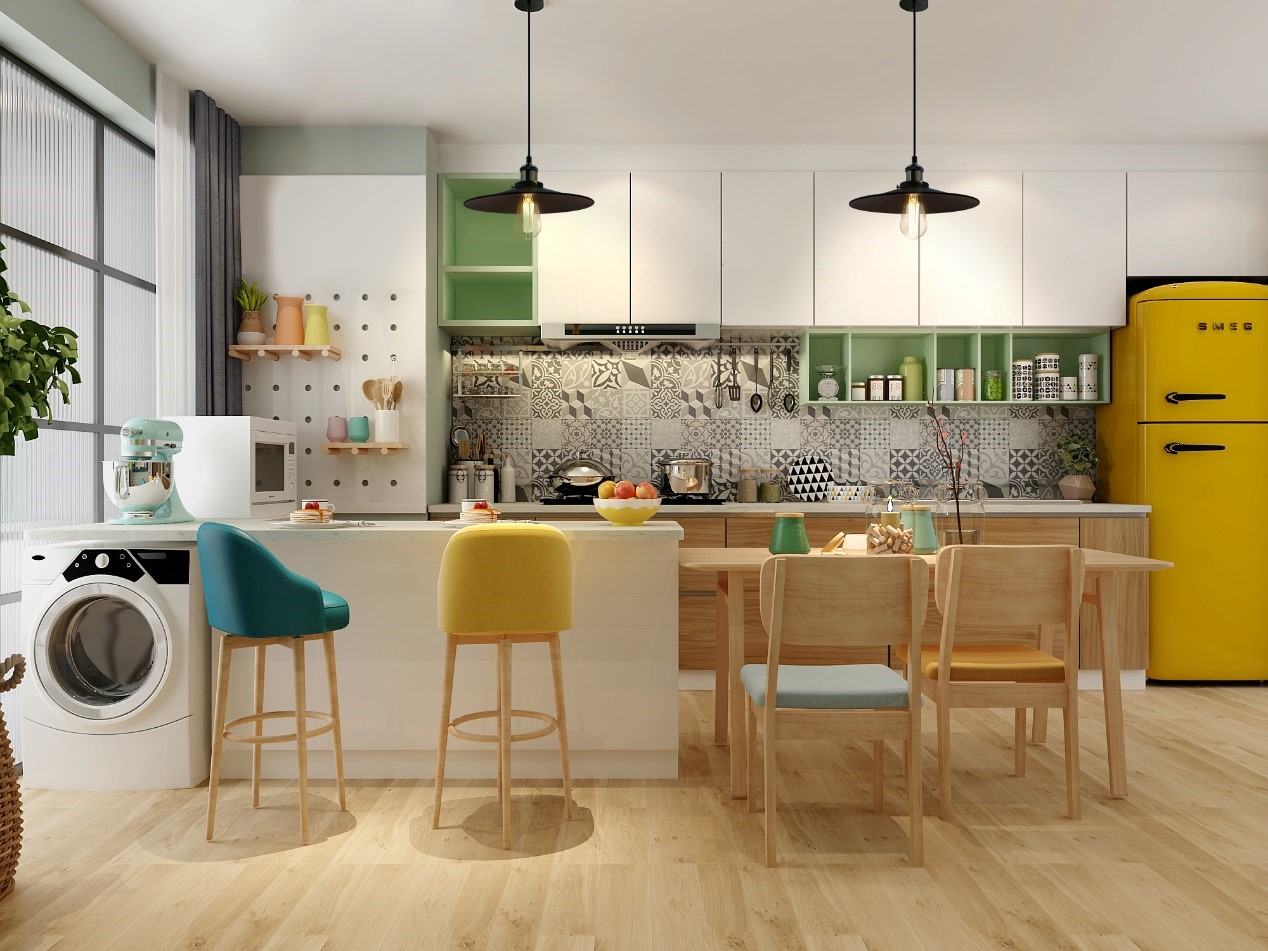 Black is classic, but colorful is a highlight. Don't think that kitchen can't be colorful. Get the look with LED Lighting from Enuotek, the combination of the black metallic LED pendant light and the colorful kitchen bar stools, which warm up the small space.
12. Black & White kitchen breakfast bar design idea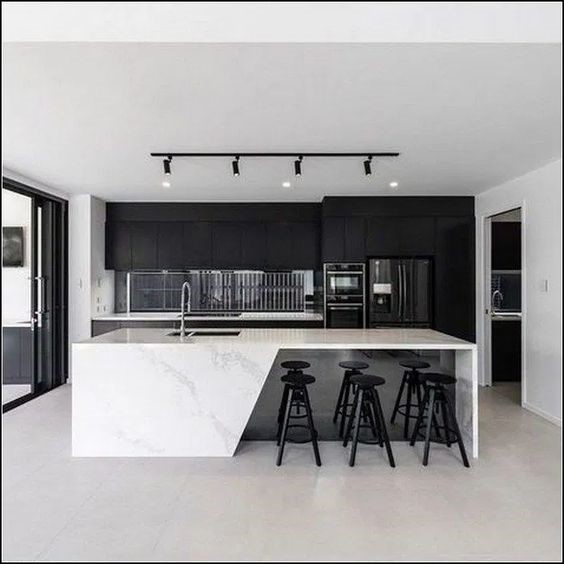 Black and white always look modern and paired. The black cabinetry makes a contrast to the white flow table, plus the bright lighting, make your space bigger and more modern.
13. Bright kitchen breakfast bar design idea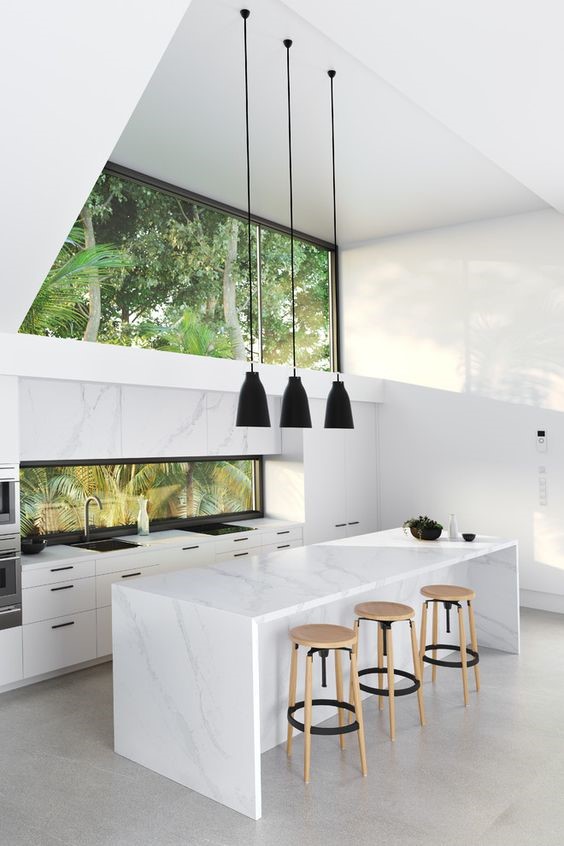 Brightness is the first element of a kitchen. The double window design make the natural light pour in in daytime, the hanging pendants guaranteed the light in the night.
14. Cool kitchen breakfast bar design idea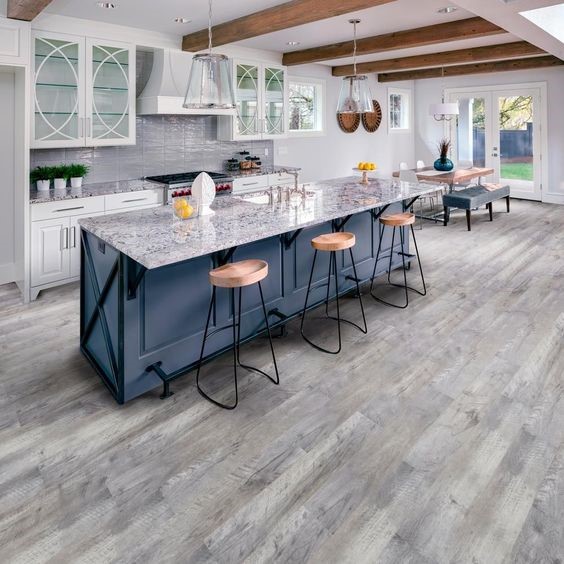 If you are a kind of French girl chic style, you can try this cool kitchen bar. The marble table with the grey painted wall, the glass pendant light and the wooden bar stools, all make the kitchen bar feel cool and different.
15. Modern kitchen breakfast bar design idea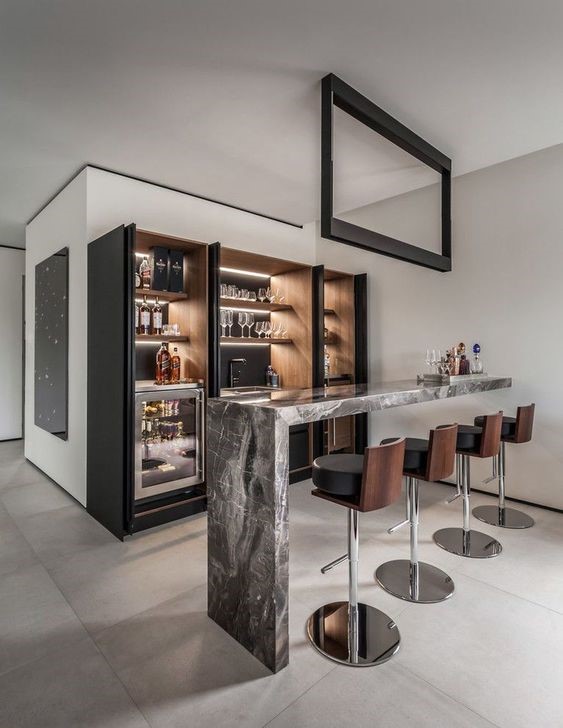 For those who like drinking, you may like this kind of kitchen bar. There is no kitchen, but the wine rack and the bar look very modern and attractive, calling you to sit down and drink little wine.
16. Chic kitchen breakfast bar design idea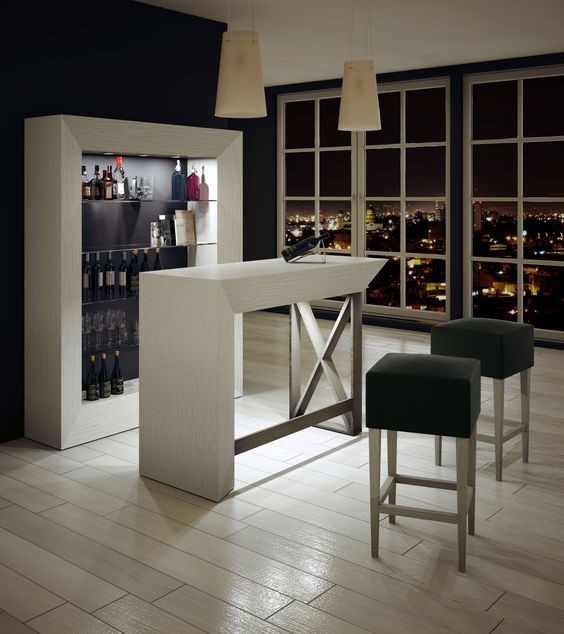 A lonely table stands next to the ceiling window, the white bar, and two black paired stools, blended with the night. Sitting by the window with your lover, drink a little wine, chatting, laughing, what a dreamy night!
17. Wet Bar kitchen breakfast bar design idea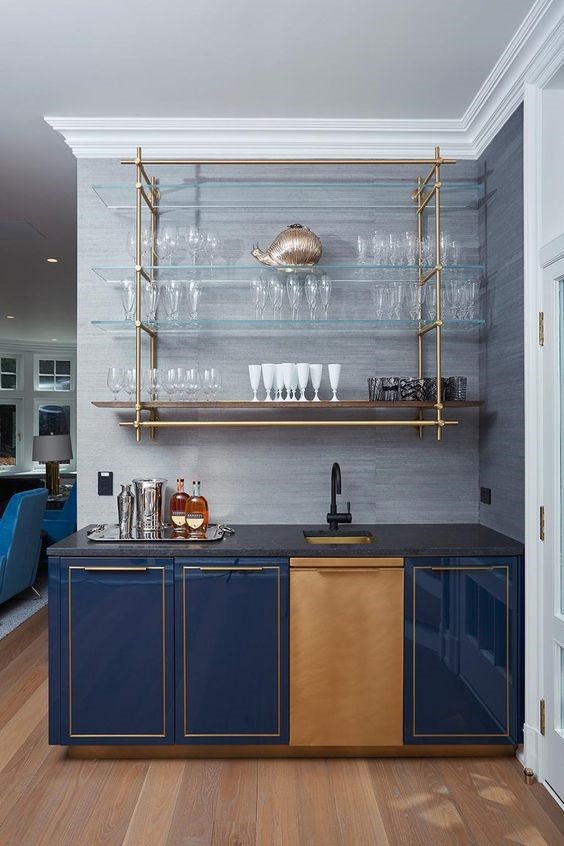 For some small kitchen which is really no space for a kitchen bar, they may quickly eat at the wet bar. The clean surface and the gold shelf which displayed your glasses, make the space brighter and bigger.
18. Vintage kitchen breakfast bar design idea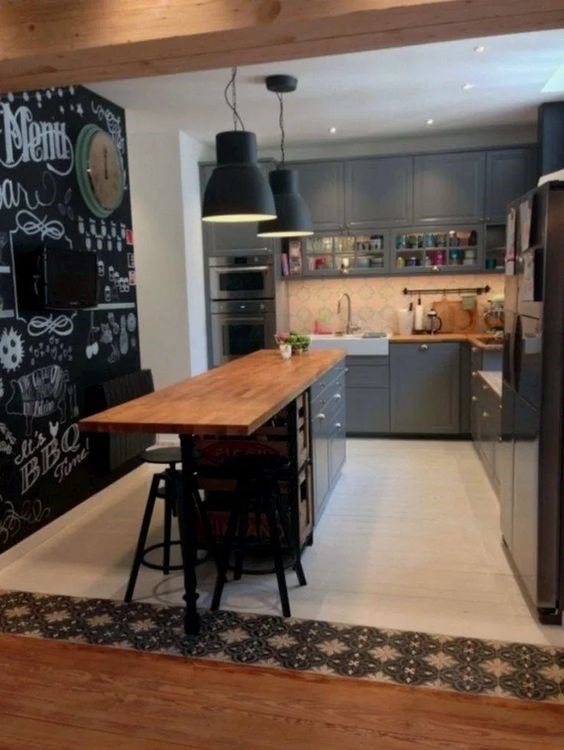 The vintage style very suitable for an American farmhouse. Just seeing in the above, the warm DIY pendant lights shine the wooden bar, make you feel cozy when eating with your family.
19. Maximize kitchen breakfast bar design idea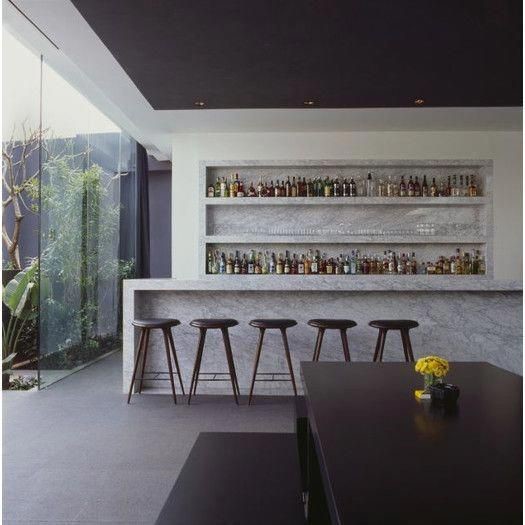 For those who don't like cooking but like to drink, then the kitchen is an only place to collect wine. You can display all your wine on the island, place stool and inviting some friends to relax and enjoy the casual time.
The kitchen bar area not only a place to eat but also an area for storing miscellaneous items, and the space will allow you to set a buffet while holding a party for friends and family.
About the Author
Christina is the marketing director of ENUOTEK. She is a designer specializing in interior decoration. In a rough article, she shared her insights into a range of interiors, decorative techniques, soft furniture and building renovations. For more information, please visit www.enuotek.com