Summer is almost here! That means it's time to start getting your garden ready for warm weather.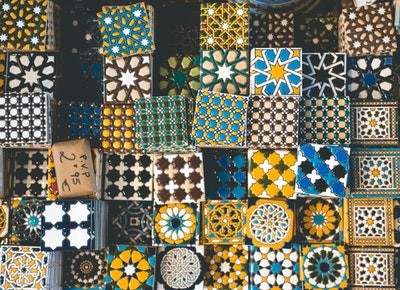 If you've been trying to think of ways to take your garden design to the next level, we are here to help.
Making your garden look its best can be a lot of work. Fortunately, there are plenty of easy and affordable mosaic design ideas to get your backyard space looking amazing in no time.
In this article, we take a look at 8 mosaic ideas to make the most of your garden, so that it will be a great place to relax and make you the envy of the neighborhood. So keep reading to learn how to up your gardening game!
Now, all of these ideas are ground or eye-level, but if you want to take your space to another level, why not mosaic umbrellas, as well? Check out these amazing cantilever patio umbrellas.
1. Mosaic Stepping Stones
Stepping stones are an ideal design element for your backyard or garden. They provide a path across the lawn or between sections of your garden for adding texture and personality.
Stepping stones are available in a variety of materials and designs. Using mosaic stepping stones for your garden allow you to add an additional layer of a design aesthetic.
2. Mosaic Table Top
No backyard or patio area is complete without a cute patio table and chairs for relaxing in the shade with drinks on a warm summer day.
This is another opportunity to incorporate a mosaic design into your garden environment. A mosaic table top helps to bring out the vibrant colors of your surroundings. This is also a great way to match the fun patterns of outdoor dining sets by using stylish plates and drinking glasses.
A mosaic table top adds an element of fun to a simple piece of furniture and makes for a great conversation starter.
3. Mosaic Flower Pots
Your garden is a place of beautiful organic life. There's just something about flowers and plants that keep you grounded and help you relax.
Flower pots come in many shapes and sizes. This is yet another place where you can use mosaic designs to add color to an already beautiful outdoor environment.
The great thing about flower pots is that they can be placed anywhere and are mobile enough to be moved and arraigned in any pattern you like.
Flower pots with mosaic patterns are like jewels, helping to transform the appearance of your garden into a magical wonderland.
4. Mosaic Bird Bath
Do you love nature? If so, attracting birds into your garden not only adds life and song, birdwatching is also a tremendous source of entertainment and joy.
And the best way to attract birds is to add a bird bath to your backyard area. Mosaic bird baths provide a splash of whimsical color and fun that will make those hours of birdwatching even more special.
Bird baths come in a variety of shapes and sizes, making them ideal for any garden. Many mosaic bird baths feature fountains that keep fresh water flowing. Your bird friends will be happy to foolish and play, and you'll temp them to make your home a favorite stop when passing through the neighborhood.
5. Mosaic Cinderblock Planters
As mentioned previously, using mosaic designs for flower pots is a perfect way to improve the look of your home. And yet there's no reason to limit the use of mosaic patterns to only flower pots.
Cinderblocks are popular for use as planters in the garden, but they are boring to look at. It's easy to spice things up by using cinderblocks bejeweled with mosaic patterns instead.
Mosaic cinderblock planters can be stacked and arraigned in any number of design schemes. In fact, the possibilities are limited only by your creativity and imagination.
6. Mosaic Stone Wall Accents
Let's face it, most walls are just begging to be dressed up. They are typically dull surfaces in desperate need of personality. Never fear! Mosaics to the rescue!
That's right, you can easily bring your boring old brick or cinderblock wall to life by incorporating creative mosaic patterns. This can include exotic stones, recycled glass, and a wide variety of other elements that will transform a forgettable surface into a beautiful work of art.
If you're feeling inspired to transform your garden with mosaic design ideas, here is a resource to learn more about all the materials you'll need.
7. Mosaic Stair Risers
Many backyards and garden areas have stairs that lead down from the house. Unfortunately, stairs often get neglected when it comes to creative design.
Using mosaic elements to dress up your stair risers is a simple way to infuse life into a part of your home that you typically ignore. This is a delightful design accent that will make you beam with pride with every step.
That's part of the genius of adding mosaic patterns to the various elements of your home. These design ideas don't have to be garish. In fact, it's often the simple, subtle touches that make the most impact, by creating an environment that pleases the eye without overwhelming.
8. Mosaic Sandbox
When you have young children at home, it's nice to have activities to keep them busy outside while you enjoy a peaceful afternoon on the patio. A sandbox is a perfect place for them to play when the sun is out and the birds are singing.
Well, there's no reason for a sandbox to be boring! Creating a cement boundary for the sandbox using mosaic design is an ideal way to give your kids a fun place to build castles and dig for buried treasure while making your garden area look like a work of art.
A sandbox can be any shape, with a cement lip made beautiful by an exotic design that inspires the little ones to use their imaginations to the fullest!
One of the most exciting of living is that you could enjoy the outdoor sunshine for most of the year in sun lounges. If you are looking for best two seater outdoor lounge, then Remarkable Furniture would be right choice for you.
Fabulous Mosaic Ideas for Your Garden
Transforming your garden into a glorious wonderland doesn't have to be complicated or expensive. Using mosaic ideas adds a creative touch that increases beauty while inspiring the soul. The ideas in the article will help you get started on the path to making your garden the kind of backyard space you've always dreamed of.
Click here to learn 10 ways to bring vintage style into your home.