DEKTON redefines the aesthetics of natural marble with a new range of colours. The new colours boast elegant veined patterns that are reminiscent of natural metamorphic formations. Blending nature's elegance with practicality, Dekton is the perfect solution for modern homes.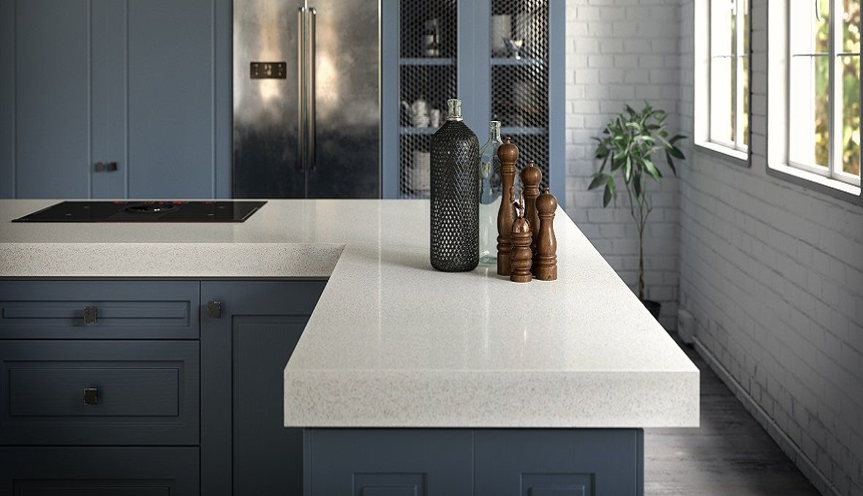 Image credit: MKW Surfaces
Nothing beats the sophistication and charm of luxurious marble worktops. This natural stone is still considered as one of the classiest materials to bring timelessness to any interior.
Despite how gorgeous marble is, it is not ideal for some functional areas of your home, such as kitchen countertops. It is because kitchen worktops experience frequent hard knocks and marble is not too strong to bear that.
All thanks to the advancement in technology, we have durable worktop materials boasting aesthetics of marble. Dekton by Consentino is one such ultra-compact material made from a mixture of quartz, glass and porcelain. The result is a durable material that is resistant to UV rays, stains, scratches and thermal shocks.
Features and Benefits of Dekton:
Highly resistant to abrasions
Highly resistant to UV rays
Highly resistant to freezing and thawing
Highly resistant to scratches and staining
Completely fireproof
No liquid absorption
Stable and uniform colour
Ideal for both indoor and outdoor applications
Marble-Effect Dekton Worktops
For nature lovers, the brand has come up with a new range of colours that draws inspiration from different natural stones like Carrara, Quartzite and Gris Pulpis. However, in this article, we will only discuss Dekton surfaces that resemble natural Carrara marble worktops. Boasting the realistic appearance of marble, this collection is likely to stand the test of time.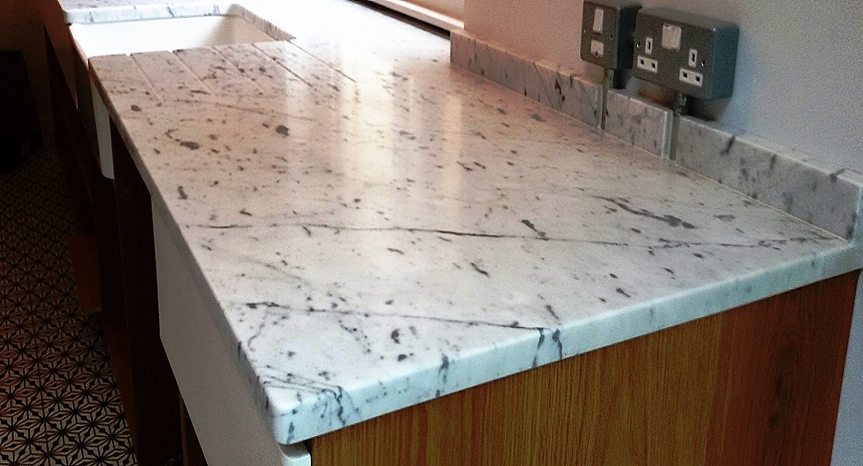 Image credit: MKW Surfaces
Here is a list of some gripping marble-effect Dekton surfaces offered by the reputable marble supplier in London:
Dekton Milar: This stunning Dekton worktop looks like a beautiful dark marble. It comes in a dark brown backdrop with mottles of different lighter brown tones. If you want a surface that feels and looks like Carrara marble worktop, this is a perfect choice. You can even use Dekton Milar in bathrooms because it can easily withstand humid conditions.
Dekton Laos: Dekton Laos boasts a charcoal brown backdrop with the appearance of natural marble. It is resistant to staining and impact. It even resists the impact of heat, scratches and freezing temperatures. Besides, it is ideal for both indoor and outdoor spaces.
Dekton Lunar: It is another beautiful Carrara marble worktop-inspired surface. Unlike the natural stone, Dekton Lunar is a high-performance surface. It also reminds you of the quartzite surface due to its similar appearance as that of the granular moon rock. Besides aesthetics, this worktop material is practical and easy to clean.
Dekton Taga: This worktop surface also looks like marble and limestone. Apart from its natural looks, Dekton Taga is intended to simplifying your life by providing a material that has high durability, sheen and functionality.
Dekton Korso: This worktop material also depicts the natural brown veining effect of marble. The material is non-porous and colour stable, along with a highly polished surface. The high sheen is likely to bring a luxurious feel to any living space without compromising its performance. The consistent patterns of this natural-looking Dekton worktop can withstand the impact of any indoor or outdoor high-traffic area.
Dekton Natura: Dekton Natura is another wonderful sintered stone, evoking the natural variations of marble. Besides the superior performance, this worktop surface boasts a unique high-gloss finish for a luxurious touch. Furthermore, Natura has innovative changing appearances that vary according to the angle of the lighting fixture on this material.
What makes Dekton worktops special?
Due to the high resistance to abrasion, heat/freezing and UV rays, Dekton is a superior worktop material for both indoor and outdoor applications. The smooth worktop surface is easy to work on and also ensures no sealant requirement for extra protection.
For homeowners looking for stable and uniform colours and patterns, Dekton offers several designs to match any interior or exterior style. You may also mix-match this surface material with unique colours, textures and finishes to give an innovative or customised appeal to any interior or exterior setting. This gives designers and architects the power to create unique designs to strengthen any construction project.
Dekton's worktop surfaces come in slab form of around 3200x1440mm and 3170x1420mm dimensions in many different colours. Hence, these sizes of slabs give many possibilities to the interior designers. For instance, you can create seamless surfaces for kitchens, bathrooms, flooring and facades.
You may even choose Dekton in an X Gloss finish with an extra high sheen on the polished surface. It is also available in Smooth Matte finish for those who want it to match with the traditional interior spaces. Also, an anti-slip solution, Dekton Grip, is recommended for wet areas, such as bathrooms, swimming pools, saunas, etc. Dekton is also available in the unique Textured Finish for aged or industrial design appearance.
Dekton surfaces are available in varying thicknesses of 30mm, 20mm, 12mm and 8mm. The 20mm and 30mm thicknesses are ideal for kitchen and bathroom applications while 8mm and 12mm thicknesses for cladding.
Dekton also utilises the Sintered Particle that works at the molecular level to ensure the material has zero water porosity. Hence, it enables the surface to adjust any environment and foods, such as lemon, curry, ketchup and coffee.
All these factors make Dekton worktops more special for modern homeowners.