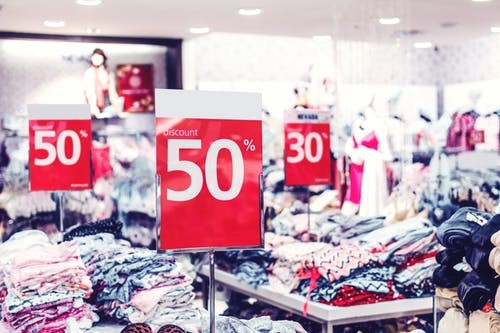 The holiday season is always the busiest time of the year. People are going home to their families, there is extra traffic in mall parking lots, and everyone is buying gifts. Retail sales for 2019 are increasing by 4% when compared to the previous year. What this primarily showcases is that customers are spending more money than ever. Retailers find that around 30% of their overall sales happen during the holiday season. But for the past few years or so, there has been a decline in these numbers. With the advent of online shopping and convenient technologies, there is no wonder retail sales are low. Whether it is Thanksgiving or Christmas, everyone likes the thrill of e-commerce and same-day shipping. Even though the stats for retail giftware this year were not abysmal, they are not the highest. But that is not all the bad news.
All retail businesses have their ups and downs when it comes to making sales. There is no one set way to help your business grow. However, there are some things you can do during the holiday season to give yourself an edge. Online channels are not the end of real-life stores and local shops: they are the beginning.
How to Have a Successful Holiday Season
There is always space for retailers to amp their efforts and have a great shopping season. Customers are more likely to buy a lot of items during these times as gifts for family and friends. Not only this, but with the despair in global economies, you can always give an incentive. Where less is more, you can do more. Surveys have shown that during this time, 14% of consumers are stressed about shopping. This means that they are driven to buy as much as they can as soon as they can. So how will retailers take advantage of this?
Providing a Good Deal
Everyone is on the hunt for a great deal. This is especially true when it comes to holiday preps and buying presents. There is a set budget that customers are willing to work with. So when retailers provide them with an irrefutable deal, they simply cannot help themselves. More than 70% of consumers who go to Amazon for a quick browse end up purchasing during the holidays. Where online shopping has become easy, retailers can use this for their incentive. They can try to offer value deals on toys and ornaments, as well as electronics and clothing. A buy-one-get-one-free deal is always effective, which is how you make your profits.
Giving Customers What They Want
Customers will not aimlessly walk into a store during the holidays. They want something from your business, but they may not know exactly what it is. What you can do for them is to give them options. If they are looking for clothes, make sure you are stacking a variety of selections. When you sustainably cater to customer needs, you will get more referrals. This ultimately means more business and then an increase in the number of sales.
Thinking About the Rush
Whenever you are scheduling shifts and hours, remember the rush. Everyone will be out to get last-minute gifts, and if you are not prepared, you cannot make a sale. Try to get as much seasonal help as possible and train your staff to handle more people. You cannot leave customers hanging during this stressful time, so adjust the speed of service and number of helpers.
Taking Help from Social Media
Social media is a great way to attract more customers. Not only is it fast and straightforward, but it brings in a wide demographic. You can use Facebook and Twitter to spread the word about any holiday sales you may be having. You could even offer deals and time-limited offers to give people what they want. This is an affordable and easy way for active engagement from the public. Once customers know your brand, they will continue to come to you. This will increase your revenue in the long run and can prove to be very beneficial to your business.
Adopting Flexibility
The main goal of most retailers is catered to the customer and what they want. So stores need to be flexible during the stressful holiday season. You cannot just have one solution at hand when it comes to your consumers. You will have to plan at least two backups to make sure that the buyer is satisfied. Being flexible is about working around business issues and offering tailored choices. This is a sure way to have customers coming back for more.
The Main Selling Points
There are some main selling points that you can adopt, no matter what kind of business you have. These are universally applicable and can give you astounding results during the holidays.
1. One bargain a day will keep customers at bay
All shoppers like big discounts. So for you to provide a small reduction on individual items will do wonders for your sales. It will not lessen any profits you make significantly and works best for well-known brands.
2. Display the best sellers on the front
The front of your shop is a representation of what you set. If you have some set best sellers, it is best that you let customers know. Display them on the front of the store and promote them online as well. This will entice buyers who are specifically looking for that one product. It will also be a great way to display any new launches or upcoming items.
Amping Up the Advertising
You can definitely invest in elaborate store displays and catalogues for promotional purposes with best ad creator. But this is not how to market yourself properly during the holidays. Retailers can add a lot of value to their advertising efforts, whether online or in person. The idea is to amp up your existing advertising methods. Whether you have online ads or big displays, you want people to see your brand and remember it. So use bright graphics and images, and light up your holiday display to invite more people in.
Creating Solid Return Policies
It happens some times that people do not like the present they have been given. Or the customer simply changes their mind about a certain item. Thus, you need to have a return policy. It is not just a good business practice, but it also helps customers feel valued and builds long term relationships.
Conclusion
The holidays are very marketable for businesses and can boost sales greatly. The trick is knowing what your customer wants and then providing them with a range of options. If you follow the given tips, you are sure to make profits this year, no matter what you are selling.