If you are looking for ways to improve your home, window tinting is a great way to go. Tinting windows is no longer just for cars. You can use it in your home in various ways. In this article, we will look at the different window tints available and how to use them in your house.
What is window tinting for homes?
Window tinting refers to putting a protective film on windows. The thin layer of film is applied to windows after purchase to enhance their strength and appearance. You can also do it to filter out excess natural light coming through your windows.
Installing window film is quite affordable, and you can make it even cheaper by putting it up yourself. Window films are available in different thickness sizes, colors, and types.
Different types of window tints for homes
– Mirror/reflective window film
Mirror film gives a mirror effect on the outside, which is how it gets its name. You can use reflective window film to keep your home's interior hidden. It also reflects off sun rays, which reduces heat inside your home.
– Decorative window film
Decorative tint allows you to put up window film with different designs on them. It looks better than regular window film and can be used to enhance your home decor.
– Anti-glare window film
With ordinary windows, there is often a lot of glare reflecting off TV screens. You can solve such an issue by putting up the anti-glare film in windows where you have TVs or people working at computer screens.
– Dark window film
In rooms where you need to filter out a lot of light, you can use dark window film. It keeps out most of the sun and makes it impossible to look inside. You can use it partially or entirely on windows, depending on your preference.
How to use window tints in your home
If you are renovating or decorating your home, there are several ways you can use window tints to improve it.
1. Use mirror window tints for privacy
Maybe you have some large bay windows but are afraid to let in the sun because of privacy concerns. Nobody wants people to look into their home or snoop on their day to day activities.
You can keep your windows free of blinds, and protect your privacy by using reflective window film. It allows you to look out from inside the home while preventing people from looking in. A significant advantage of this is that it also reflects off the heat, leaving your house interior cool on hot days.
2. Install dark window tints for home security
Maybe privacy is not your concern, and you have no problem leaving your windows open. However, you may be concerned about the safety of your property. You don't want people to see your valuables through the window when passing by.
You can prevent any prying eyes or accidental sightings by putting tinted window film on them. With the protective film in place, you are assured that people will not be able to glance into your home and see what you have inside.
3. Put up window film to protect your interior decor
If you are unaware, the constant glare of the sun rays on furniture causes fading and degrades it over time. For example, if you leave leather furniture in a place with access to lots of direct sunlight, it dries up, fades and starts to crack.
If you want to protect your furniture, floors and other interior decors from sun damage, you should install window tints. There is a tinted window film specifically created to block out the harshness of sun rays that is easy to put on windows. Once you have it in place, you will be able to enjoy your great view and let in some light into your home without damaging your valuable decor and home fixtures.
4. Use reflective window film to cut down on house cooling costs
While good lighting in a room is great, it also comes with some heat. The more sunshine you get through your windows, the warmer your house gets. If you are using AC or any other cooling technology in your home, you will find the bills can be quite high because the windows are letting in the heat while your cooling system works hard to keep the house cool.
To cut down on electrical bills, try using window tints for residential homes to cool your house in hot weather. It's a much better option than using blinds which force you to forego your view to keep the home cool.
5. Enhance your home decor with decorative window film
Window tints can also be used as a way to decorate your home. For example, you may have a bathroom window that you would prefer to avoid using blinds on. In such cases, frosted window tint works great because it can act as a decorative barrier on your window while keeping out any prying eyes.
You can also put up decorative window film on glass doors such as in shower stalls or room separators. If you want to use color, you can use colored film to add some spice to your home or match your decor.
Things to consider before installing window film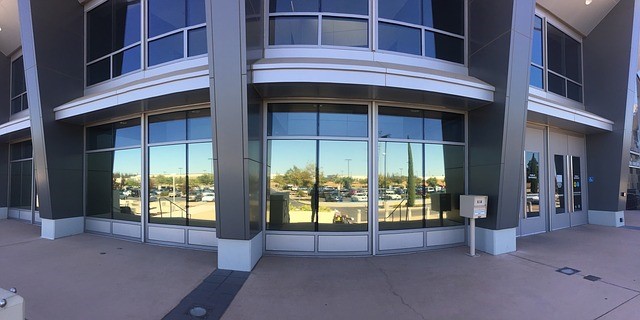 Before you purchase window film for your house windows, there are a few things you should consider.
Find out if your homeowners' association allows residents to put up window film.
Insurance: You should also check if using window tint interferes with any future compensation claims in case of window damage as a result of your insurance requirements. Some insurance companies may refuse to compensate you in case of window damage if you put tint on windows after purchase.
Solar Heat Gain Coefficient: When purchasing window film, pick one with low solar heat gain coefficient It's a fancy name for the measurement of heat that a window tint film will allow into your home.
Solar reflectance: This refers to the amount of heat reflected from a window film. A great option is a type of window film that reflects as much heat away from your home interior as possible; one with high solar reflectance.
Residential house tinting is a great way to improve the safety and aesthetics of your home. There are different types to suit any taste. So don't forget to include residential window film in your next home renovation project.